When worst comes to worst
How Langley will handle a closure due to the coronavirus pandemic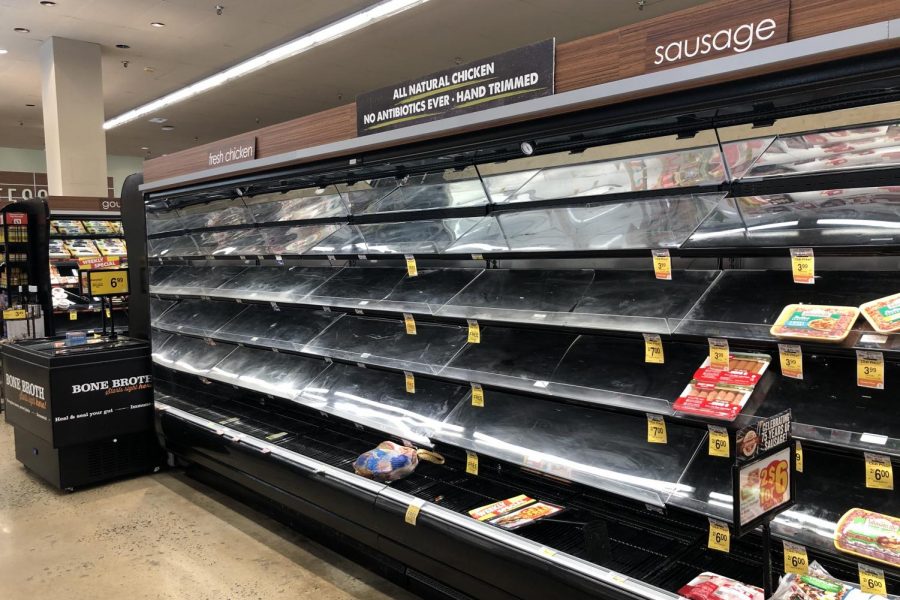 As the novel coronavirus (COVID-19) spreads throughout the United States, hand sanitizer, masks, and canned foods disappear from shelves as people prepare for worst-case scenarios. However, while families stockpile food and medicine, the schools–hot spots for germs–must prepare for the possibility of a closure.
According to the New York Times, on March 4th as many as 22 countries on three continents reported school closures as a result of COVID-19. While initially, COVID-19 may have seemed distant, as of Monday, March 9th, several Washington, D.C., schools have closed due to health concerns.
Additionally, CNN reported on March 7th that a United States Marine was confirmed to be the first diagnosed case of COVID-19 in Fairfax county. 
"We are aware of the reports indicating a U.S. Marine assigned to Fort Belvoir tested positive with coronavirus," Superintendent Scott Braband said in a message to the FCPS community. "A Fort Belvoir military official has informed us that the Marine has no connection to FCPS." 
On March 8th, a second case was confirmed in Fairfax City, according to NBC and since then several more cases have been confirmed in the Northern Virginia region.
"If you or I were to get [COVID-19] we'd have the flu potentially we can get over it," 10th grade English teacher Mary Baker said. "If the elderly or someone with a weak immune system gets it, it becomes deadly."
According to an FCPS Fact Sheet, "FCPS is working with the Fairfax County Health Department (FCHD) and closely monitoring the health crisis in China and globally associated with novel coronavirus infections (COVID-19), as well as any impact it may have locally." 
In response to the potential outbreak, FCPS has developed a COVID-19 response team led by the district's chief operating officer.
"This team is meeting regularly to review updates from [Fairfax County Health Department], prioritize division-wide matters, develop internal and external communication protocols, and implement the FCPS Pandemic Influenza Response Plan," Braband wrote. 
Braband outlined two possible planning scenarios in an email sent out to the FCPS community on March 9th. The first planning scenario outlines closing a single school where a case of COVID-19 is suspected or confirmed. The second planning scenario involves closing all FCPS schools by recommendation of public health officials.
So, if worst comes to worst and FCPS schools are forced to close, what happens to the students? The Center for Disease Control (CDC) recommends that students use e-learning plans when available. 
"If the county feels that students' health is at risk, I believe they will cancel and move to online [classes]," English teacher Marla Duncan said.
According to Vice Principal Jim Roberston, FCPS's new One-to-One policy means Langley is capable of using an e-learning plan. 
"We need to continue teaching in some kind of capacity," biology teacher Tanda Johns said. "I don't think we should just let students be off for that amount of time because it affects all their SOLs and their testing and their mastery of different subjects that they need to have for next year."
On Wednesday, March 11th, FCPS announced that Monday, March 16th, will be set aside as a teacher workday so that teachers can collaborate on a plan for distance learning. 
QUOTE
While Langley has already switched over to the One-to-One policy, many FCPS schools have not. And, even with the One-to-One plan, many students do not have internet access at home. 
"We recognize that some of our families lack access to computers and internet access at home and we will make available through local schools loaner laptops and mobile hotspot devices (MiFi), if needed," Braband wrote. 
While COVID-19 is not particularly dangerous to youth, some students have stopped coming to school to avoid contracting the virus.
"Multiple students [have emailed] me because they are not coming in today or tomorrow," Baker said. "One lives with an elderly grandparent and if it's around here he'd bring it back home." 
On March 12th, Loudoun County Public Schools announced that they have closed until March 20th.
On the evening of March 12th, a former member of the school board, Ryan McElveen, posted on his twitter condemning FCPS' management of the pandemic.
"The Fairfax County Board of Supervisors and School Board are putting our community in grave danger by continuing to claim that our population is at low-risk for coronavirus. They are encouraging a false sense of complacency, ignoring science and insulting our intelligence. Health experts predict the Washington metropolitan area will soon see a major uptick in coronavirus cases, which is partly why Washington, DC; Virginia; and Maryland have declared states of emergency and the entire state of Maryland has closed schools for two weeks," McElveen wrote.
The morning of March 13th FCPS schools announced that they would close for the day. While FCPS has not canceled school for an extended amount of time but, they have canceled all school trips to prevent the spread of the novel Coronavirus.
"The night before we left for [the National Concert Band Fesitval], FCPS canceled all field trips. It's incredibly irritating," junior at South Lakes High School Luke Miller said.
In addition, Langley high school canceled the band concert scheduled for March 12th. 
"[I'm] not too happy about [the concert being canceled], but you shouldn't prioritize your interests over your health overall," junior clarinetist David Monserrate said.
For now, FCPS is encouraging students and faculty to practice good hygiene.
"We have directed our schools to find time to allow students to wash their hands throughout the day and reiterate the importance of students and staff staying home if they are not feeling well," Braband wrote. 
In his email, Braband outlines a few precautions that can help to limit the spread of COVID-19:
"Wash your hands often with soap and water for at least 20 seconds. Use an alcohol-based hand sanitizer that contains at least 60% alcohol if soap and water are not available.
Avoid touching your eyes, nose, and mouth with unwashed hands.
Avoid close contact with people who are sick.

Stay home when you are sick.
Cover your cough or sneeze with a tissue, then throw the tissue in the trash.
Clean and disinfect frequently touched objects and surfaces."
Students can stay up to date with FCPS' decisions about closures, new policies, distance learning, and more by visiting FCPS' new Coronavirus webpage here. 
"With other counties, sports, and programs closing, I can't imagine we would be the only ones open," Gym teacher Cheryl Buffo said.