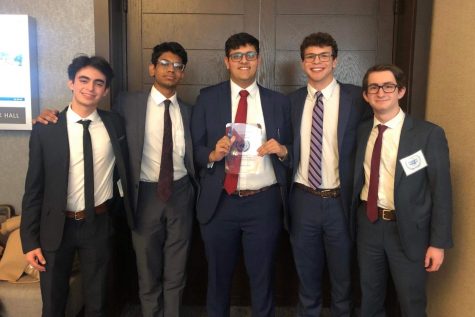 Aiden O'Connor and Colleen Sherry
March 4, 2020
Since 2011, lovers of history, public speaking, politics, and leadership have found a home among Langley's iconic Model United Nations (MUN) team; a club boasting over 130 members of the student body and--after...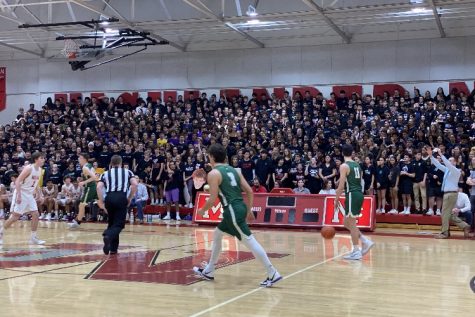 February 28, 2020
The game was close; both teams battling for...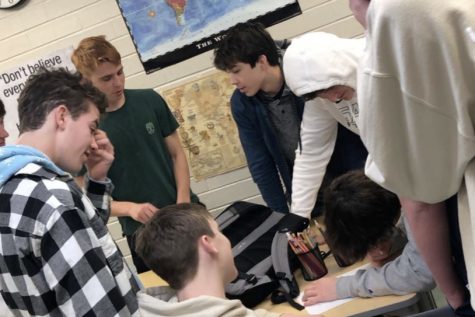 February 26, 2020
Langley High School has many clubs and activities...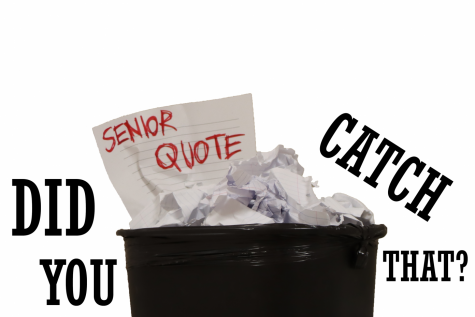 February 25, 2020
Senior year is one of the most memorable...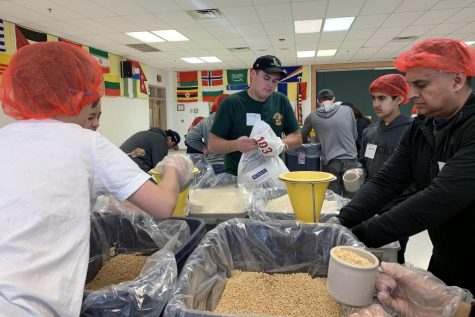 February 20, 2020
The only cord that can be worn during graduation...
January 25, 2020
For Fay Shuai, it's the news of the coronavirus outbreak...
January 13, 2020
Cheating happens at every school--tests, quizzes, and...
A Change of Heart to Change Lives
January 25, 2020
Spending time with those you love, eating good food,...
December 1, 2019
Fall; with its crisp wind and colorful leaves, autumn...
November 11, 2019
For years, the Langley-McLean rivalry has been steadily...
October 22, 2019
A student shuffles by Room 2610, head down as the voices...
Geno Colabatistto
Reporter
Gino is a freshman at Langley. He is an avid hockey player, who plays for Langley and outside of school for Reston. He takes journalism because he is interested in becoming a sportswriter.
Grace Chen
Reporter
Grace is taking Journalism 1 and is liking it so far. She likes how there is research about different subjects because not only do the readers learn something new but she does too!
Daniel Camacho
Daniel is a junior at Langley High School and is one of the newest reporters for the Saxon Scope. He's a creative type of writer who spends his free time studying game design.
Stacia Datskovska
Reporter
Stacia Datskovska is a passionate journalist who, in addition to the Scope, writes for a local magazine; she has also published in USA Today and Nederlands Dagblad, a national newspaper in the Netherlands....
Fares Al-Rafai'h
Reporter
Fares is a junior at Langley High School and this is his first year in journalism. He once came third in a weightlifting competition when he was 11 and cried when his older brother beat him to first place.
Sammy Dallas
Reporter
Sammy Dallas is junior who plays alto sax for Langley. As a reporter he enjoys the journalism atmosphere and learning experiences. In his free time he makes short films at Director Dallas on YouTube.
Loading ...
| Date & Time | Sport | Teams | Location | Date & Time | Sport | Teams | Location |
| --- | --- | --- | --- | --- | --- | --- | --- |
| March 17, 7:30pm | Girls Varsity Lacrosse | Langley Saxons vs. Woodson Cavaliers | Woodson HS | March 16, 5:45pm | Girls JV Soccer | Langley Saxons vs. Fairfax Lions | Fairfax HS |
| March 17, 6:00pm | Varsity Baseball | Langley Saxons vs. Oakton Cougars | Langley HS | March 17, 6:00pm | JV Baseball | Langley Saxons vs. Oakton Cougars | Oakton HS |
| March 16, 7:15pm | Girls Varsity Soccer | Langley Saxons vs. Fairfax Lions | Fairfax HS | March 17, 6:00pm | Girls JV Lacrosse | Langley Saxons vs. Woodson Cavaliers | Woodson HS |
| March 16, 6:00pm | Varsity Baseball | Langley Saxons vs. Westfield Bulldogs | Westfield HS | March 18, 6:30pm | JV Baseball | Langley Saxons vs. Westfield Bulldogs | Langley HS |
| March 18, 5:30pm | Girls Varsity Soccer | Langley Saxons vs. Justice Wolves | Langley HS | March 19, 6:30pm | JV Softball | Langley Saxons vs. Westfield Bulldogs | Langley HS |
| March 19, 6:30pm | Varsity Softball | Langley Saxons vs. Westfield Bulldogs | Westfield HS | March 23, 6:00pm | Girls JV Lacrosse | Langley Saxons vs. Madison Warhawks | Madison HS |
| March 21, 8:00am | Track & Field | Invitational | TBD | March 23, 5:45pm | Boys JV Lacrosse | Langley Saxons vs. Madison Warhawks | Madison HS |
| March 24, 3:15pm | Girls Varsity Tennis | Langley Saxons vs. McLean Highlanders | McLean HS | March 24, 6:30pm | JV Softball | Langley Saxons vs. Robinson Rams | Langley HS |
| March 25, 5:00pm | Track & Field | Langley Saxons vs. Herndon Hornets vs. W&L Generals | TBD | March 25, 7:15pm | Boys JV Lacrosse | Langley Saxons vs. McLean Highlander | McLean HS |
| March 26, 4:00pm | Boys Varsity Tennis | Langley Saxons vs. W&L Generals | W&L HS | March 26, 5:45pm | Boys JV Soccer | Langley Saxons vs. McLean Highlanders | McLean HS |