Film Fanatic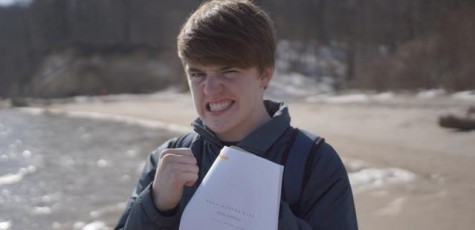 Meet tenth grade student Ben Hunt. Hunt and his co-director, Josh Leong, sophomore at McLean High School, are directing the short narrative film, When Waters Rise.  The 12-15 minute film is a narrative based on the Biblical parable of the wise and foolish builders.  "It follows the story of a weathered father and daughter as they traverse paths in the midst of a trolling disaster," said Leong. "The storm represents the stress, depression, and anxiety that overwhelms people today," said Hunt.
The directors hope the film will start a discussion and open the eyes of their generation. Hunt and Leong plan to begin filming in March as their preproduction work comes to a close. Hunt said, "We plan to have the film done by late May/early June and want to premier it at a film festival."
Hunt was inspired to create the film when his church friend, Leong, "wanted to make a film with the important message of our generation dealing with overwhelming stress in the world today and how our faith can protect us," said Hunt.
The first step in creating their film was fundraising. In only one month, they raised over $2,500 to fund technology, pay actors, and to discover locations. By taking on such a challenge at a young age, Hunt finds it is difficult at times for everyone to take him seriously. "It is scary to ask people for money and have them believe that you will make a great final product with their donation," he said.
"I think it is good for kids to pursue their personal dreams at a young age because it gives them a taste of what it is going to be like in the real world, so while they are still learning and in school they get to see how it works," said Linsey Wenk (10) commenting on Hunt's project. Writing, directing, and creating a film as a high school student can present a multitude of challenges, such as complicated schedules and a lack of resources that would typically be available in the commercial film industry. However, Hunt said, "We are using a variety of cameras and lenses, and a drone which is my favorite. We will be editing using Final Cut Pro X." Producing a film, on average, costs around 65 million dollars. On the contrary, Hunt and Leong found that they can still produce an excellent film with a modest budget.
Hunt hopes to achieve "an increased knowledge in film making, awesome memories with our cast and crew, and to spread the word to trust God in difficult times," he said. The excitement of delivering an amazing film and fulfilling the trust others have put in him motivates him to complete the project. "[Hunt's] passion for directing is amazing and I cannot believe someone our age could be this talented," said Muskaan Khan(10). You can like When Waters Rise on Facebook at www.facebook.com/WhenWatersRiseFilm to stay up to date on the film.
"We can't wait to bring the parable from the pen and paper, to the screen," said Leong.