First Time Win for Langley Marching Saxons
Marching Band Wins Its First Competition in School History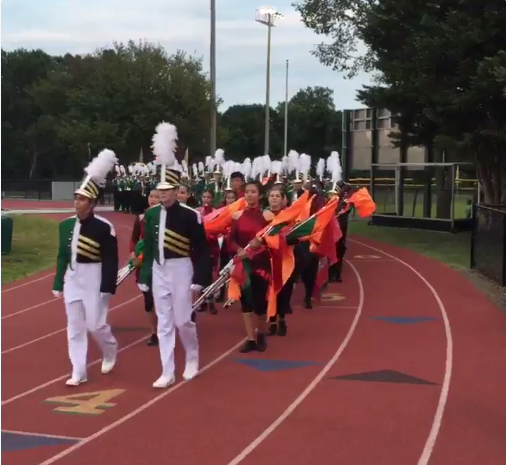 On Saturday, October 1, the Langley Marching Saxons took home the first place award for Best General Effect in the annual Marine Corps Invitational at Navy-Marine Corps Memorial Stadium in Annapolis, MD. It is the very first time in school history that the Langley marching band has won a competition, and they did so despite performing in bad weather conditions.
"The marching band's first ever victory excited all of us and all of our hard work paid off that day," said Patrick Corrigan, a sophomore trumpet player on the marching band. "It was raining, and the field was wet, but we still did our show the best we could."
Normally, performing in the rain can make for a challenging time, but for sophomore marcher Drew Myers, it was the exact opposite. "It wasn't the most fun, but it was a unique experience – something that we will never forget. We now know that we can perform in any kind of condition."
Many members in the marching band were initially surprised that they won the award for Best General Effect in their class, given to the team displaying the most effective and entertaining program. "As marchers, we personally did not think that we did that well due to the rain, but that was really only because we have such high expectations of ourselves," said sophomore marcher Rehan Javaid. "But when we watched the video, we actually did quite well."
Congratulations to the Langley Marching Saxons on making school history!