Local Residents Up In Arms With Gun Store Opening Near Langley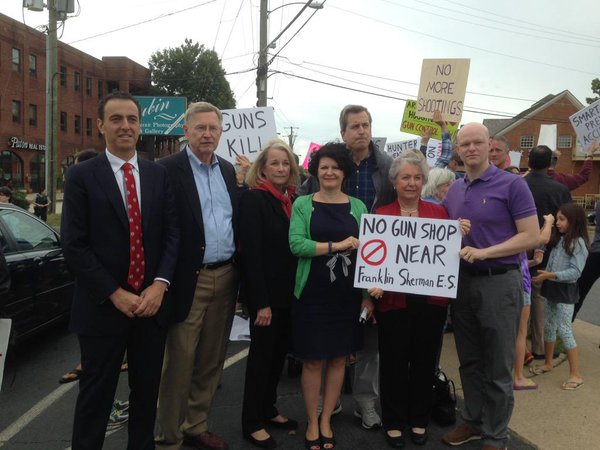 Members of the McLean community in the Langley HS pyramid are up in arms over the recent opening of a gun store next to Franklin Sherman Elementary School on Brawner Street in McLean, VA. Nova Firearms, the largest Virginia gun shop inside the beltway, is located directly behind the elementary school just 1.4 miles from Langley HS. The controversy according to several parents, neighbors, and school leaders is the threat to community safety by having a gun shop in a residential school zone. Gun violence is the leading cause of death in the United States of America and has been a major issue of concern over the last decade. In an era where mass shootings occur several times a year, gun opponents are using the gun store controversy to advance their views surrounding gun-control laws in the country.
Although the Gun-Free School Zones Act of 1990 prohibits any individual from possessing a firearm within 1,000 feet of school property or in a school zone, there are exceptions which permit possession of guns on private property that are not part of school zones as well as allowing unloaded and locked guns. According to the gun store owner, it is legal for the business to be in proximity of the elementary school. Nova Firearms conducts federally and state mandated background checks on every customer and offers gun-safety classes for adults and children.
Originally Nova Firearms tried to lease space in Arlington, but was forced to abandon the lease since the landlord did not support the sale of guns. Nonetheless, parents and activists gathered together in front of the gun store on its opening day, September 26, in a protest against the sale of firearms next to Franklin Sherman Elementary School stating that students deserve a safe environment to learn. Fairfax County Supervisor for the Dranesville District, John Foust, has publicly stated that he wants to persuade the gun store to relocate. Foust said that Nova Firearms has the legal right under the county zoning ordinance to operate on Chain Bridge Road. However, "just because you have the right to do something, doesn't mean you should do it," said Foust in an interview with Antonio Olivio of The Washington Post. "I'd be happy to work with them to find a location that would not have the consequences that this particular site has. Whatever it would take to solve what is a very bad situation."