Big steps for Saxon Stage 
Langley students return from VHSL one act competition victorious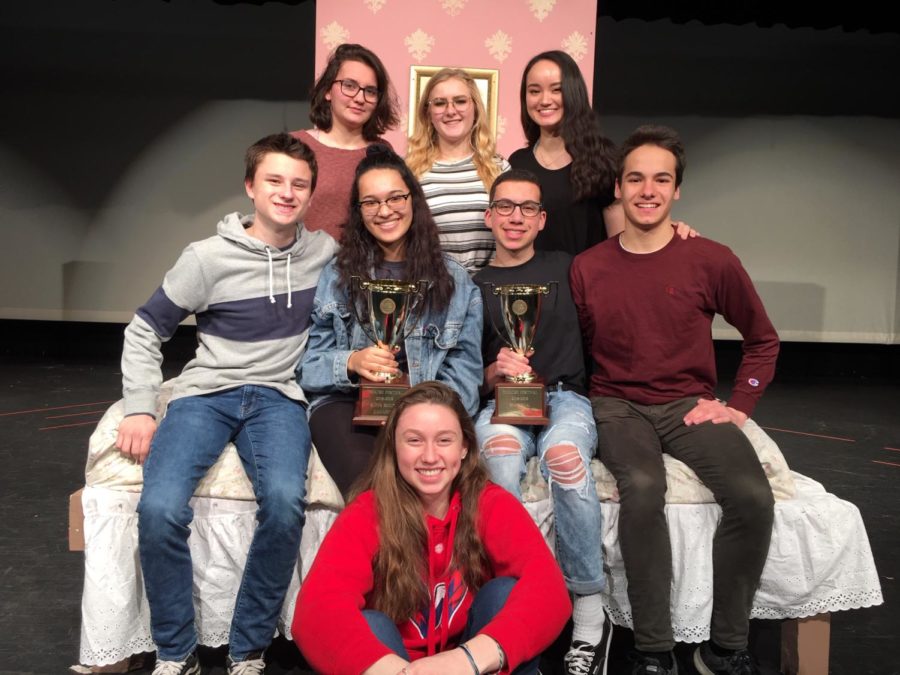 Three to four times each year, The Langley auditorium transforms from a regular room into anything from the streets of Buenos Aires, a Mississippi boot camp, or an island in Greece. Each Saxon Stage production includes countless of rehearsal and work on costumes, sets, and staging. While the talent of the members of Saxon Stage is a well-known fact in the Langley community, their competitive spirit caught many off guard.  
This winter, many groups of Langley theater students worked together on student-directed one acts for a Virginia High School League (VHSL) competition. Pillowtalk directed by junior Mary Kurbanov ended up winning the school-wide competition. They then moved on to regionals, then sectionals, and eventually won the competition for the entire state of Virginia. 
"I didn't really think I would get to states, at regionals I really didn't think we would go on, but then we ended up getting first, so that was a surprise," Kurbanov said. At the state level, Langley competed against three other schools; Colonial Forge, Grassfield, and Chantilly. All of the other competitors had much more extensive cast lists than Pillowtalk, some also including special effects, while Pillowtalk had a much simpler setup, which could have put the one act at a disadvantage, but in the end, worked in their favor. 
"I really didn't know if our one act would get this far. I knew we had a good show, but there were definitely times at every stage of the competition where I didn't think we would win." Sophomore Cole Sitilides said. Sitilides was one of the two actors who appeared in the one act, starring alongside junior Samuel Buroker. Both Baroker and Sitileds are Saxon Stage veterans, Sitilides had a featured role in last year's musical, Evita, and starred in the Fall play Biloxi Blues, which Buroker also had a featured role in, and Kurbanov was the stage manager for. 
"They [Sitilides and Baroker] have a really great chemistry, which I saw mostly when I worked on Biloxi Blues, they just work really well together, so it just made sense to use them," Kurbanov said. The show, Pillowtalk, is about two men having to share a bed, the set and costumes are not complex, and the script is mostly a conversation between the two actors. 
"I really liked the way the play was set up because it was different from what you normally see, and the two guys had such a great connection so they really made it work," sophomore Lucy Chen said. After the production won the state championship, the cast and crew of Pillowtalk gave an encore performance during Saxon Time. This allowed students who missed the first showing to support their fellow Saxons after their victory.  
One aspect of Saxon Stage that often goes unnoticed is the tech crew. These students often work longer hours than the actors, creating sets, lighting and sound systems, and costumes. Senior Emma Connelly was in charge of lighting for the show and cites Pillowtalk as one of her best Langley experiences. 
 "My favorite memory of Pillowtalk was the entire experience as a whole, and if I had a chance to relive it all I definitely would," Connelly said.