Saxon Varsity Golf Wins State Championship
With a repeat state championship, Saxon golf looks towards the future
Hang on for a minute...we're trying to find some more stories you might like.
On October 10th, 2017, Langley's Varsity golf team won the Virginia state title for the second year in a row- by thirty eight shots. The Saxon's total score of 571 outpaced Kellam High School at 609 strokes, James River at 617 strokes, and Fairfax at 630 strokes, marking the lowest team score in Virginia State Championship history. During last year's state championship at Magnolia Green Country Club, the Saxon's won with a team total of 612, forty-one shots higher than this year's score.
Senior Eli Thrasher, sophomore Nikita Gubenko, and freshman Kelly Chinn earned All-State honors after top-ten finishes. In fact, Chinn won the tournament, clinching the individual state title with scores of seventy and sixty-six, a total of eight under par. "It was an awesome feeling to win the individual title," says Chinn, "the field was really competitive, but every putt I stepped over I thought 'this is going in'".
But now Langley golf's seniors' careers are over. Nevertheless, the players are still excited by their first-place finish. "I felt pure elation after winning", says senior Eli Thrasher. "Of course I am a little sad because my high school golf career is over, but winning the championship as a team overtakes any sadness I feel." Thrasher holed-out the final shot of his high school golf career from forty years away in the fairway, capping of his round of seventy-three.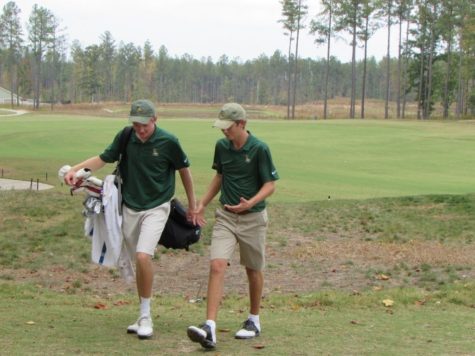 Coach Al Berg, Langley golf's coach for twenty-five years, has won four Virginia state championships with Langley. Four years ago, Berg retired from coaching, yet after seeing the upcoming talent from this year's exiting seniors, Berg came out of retirement in hopes of winning another State championship. "We would have been disappointed with anything less than a state championship," says Berg, "I have never seen a stronger team in the state than this year's top eight"
Every player on the team accredits Coach Berg for their success. While Berg may retire soon, his presence will certainly be felt. "Coach was super important," said Thrasher. "We returned with a lot of the talent from last year's team but coach kept our heads on straight and did not allow is to let off the gas until the last putt dropped."
With the exit of three starting seniors, Langley may have trouble clinching their third state title in three years, yet the entire team believes they have enough depth to sustain any leaving talent. "We still have a lot of potential and even if you get down to our b-team, we can still contend", says Chinn. "We should still contend for the state championship in the next few years, especially with all our potential." Following another successful season, Saxon golf hopes to continue its winning streak.