Girls Varsity Basketball Ventures to States
Girls' basketball team will journey to states for a second consecutive year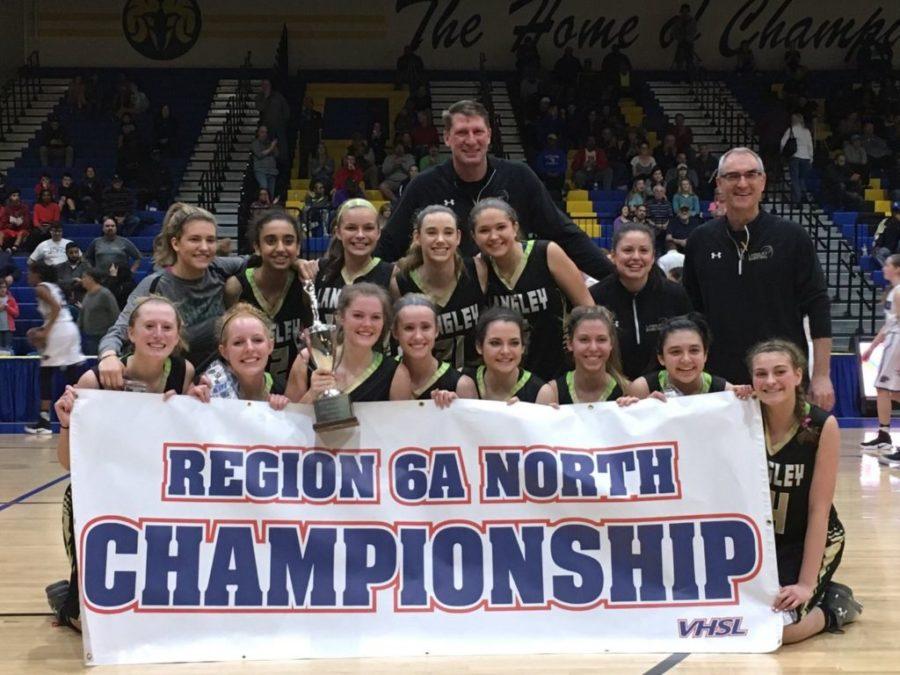 Again. The Langley girls' basketball team will be in the state tournament for a second consecutive year. A momentous win for the Saxons in the regional championship over Battlefield High School 45-41 will send the Saxons as the one seed coming into the state championship tournament.
The season for the team has been relatively smooth sailing. A 24-4 record for the season and a spotless postseason run leaves teams to believe that Langley is a fierce competitor for the state title. Along with this the team's overall success, senior Olivia Augustini was recognized as conference defensive player of the year and junior Jordyn Callaghan was chosen as the player of the year for the Liberty Conference. The team has not lost a game since January 31st and is on an 11 game winning streak.
During the regional championship game, while the score was close, the Saxons were looking shaky. Until a Jordyn Callaghan layup sparked the offense to go on an 11-0 run. "She was in the clear, wide open. She hit it, and that's exactly what we needed," said Senior Elizabeth Bucy. "Langley's offense came all at once afterward in a 45-41 victory in the Virginia 6A North region title game" said reporter for the Washington post Jacob Bogage.
"Going into states we are going to keep on doing what got us here in the first place and take it one game at a time, focusing and preparing for our first game and continue to trust our defense," said Player of the Year Jordyn Callaghan.
"There is so much team chemistry this year and we spend so much time together off the court that we just jell so well on the court and we always work together," said Callaghan. The Saxons are continuing a historic season. Never had the girls basketball team won the conference and regional championship in the same year and a Langley girls basketball team has never won a state championship. Callaghan and her team look to end the winning drought.
Now the team has their sights set on winning the title for the 6A state for the first time in a long time.
The Journey to the Trophy
Game 1: Quarterfinals
@Lake Braddock High School on March 3rd (will play South 4) at 7:15
Game 2: Semifinals
@James W. Robinson High School on March 4th at 6:00
Game 3: Championship
@VCU-Siegel Center on March 11th at 6:15