Somewhat Early Heisman Predictions
A look into how the College Football year will end based on the start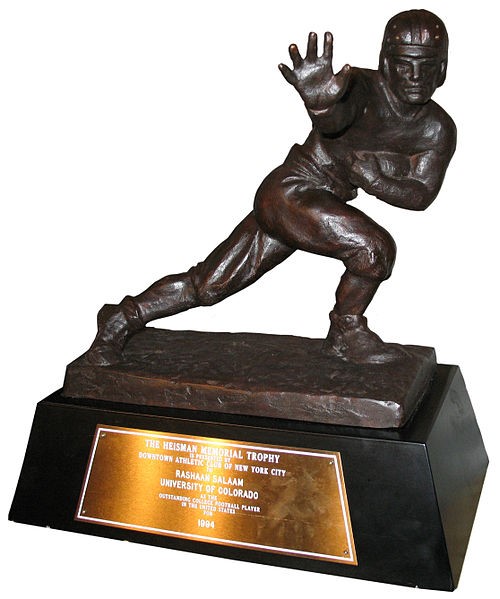 Christian McCaffrey RB, Stanford Jr: A returning Heisman candidate, McCaffrey is the favorite and my personal favorite to win the Heisman trophy.  Stanford has built their program around McCaffrey and this year are giving him the opportunity to top the record breaking year he had last year. Many analysts believe he should have won the trophy last year breaking the record for most all-purpose yards with 3,864. The previous holder of this record was the NFL Hall of Fame inductee and former star Lions running back Barry Sanders who had just 3,250 all-purpose yards.  He started off this year with a 2 touchdown and 126 yard game. He had a punt return for a touchdown in that game that was unfortunately called back because of an illegal blocking call. After watching the game against Kansas State, a 26-13 victory for Stanford, it seems that McCaffrey will be in and used during most of the plays and will time after time produce very strong games. That's why he's my favorite to win the trophy. According to Sportnews.com the school is also trying to make a big push for McCaffrey to win. "The school has also already reached out to Heisman voters and media outlets to ensure McCaffrey is kept in the news for all the best reasons,'' claimed Sportnews.com.
Lamar Jackson QB, Louisville So: Someone who many fans have never heard about is Lamar Jackson and a man to watch this college football season. In his first game Jackson recoded 8 total touchdowns (in the first half) and a total of 286 passing yards. The following week the 13 ranked Cardinals came prepared against Syracuse winning in a convincing fashion 62-28. Jackson had another great game with 4 rushing touchdowns and 1 passing touchdown. He followed up that game with an event better one. On Saturday the Cardinals routed the #2 ranked Florida State Seminoles 63-20 and Jackson had 5 total touchdowns, Right now according to most Jackson, only a sophomore, is leading the ESPN Heisman Watch as the favorite to win the trophy.  "Watching him is incredible. He is so good and there is no doubt if he plays like this he should win the trophy," said Junior Jared Tewodros. If he can consistently put up these video game caliber numbers, Jackson should win the trophy easily.
Deshaun Watson QB, Clemson Jr: A returning Heisman Candidate and leading QB of the Championship runner-up Clemson Tigers who are currently ranked fifth in the country. Watson had a slow start to the season in a close victory over Auburn recording just 248 yards passing and 1 touchdown with 1 interception. He also had an underwhelming performance this week in a shockingly poor game played by the Tigers who almost lost to unranked Troy in a 30-24 shocker. Watson recorded 292 yards, a respectable number, and 3 passing touchdowns, but 2 interceptions demonstrated that Watson's poor decisions could destroy his Heisman chances. He followed up a poor performance with a quick comeback. The Tigers faced South Carolina State and won 59-0. Watson threw for 3 touchdowns and had 152 passing yards with no interceptions. "After watching Clemson and Deshaun Watson this year and last year I would be surprised if Watson did not win this year," said Junior Warren Kahn.
Nick Chubb RB, Georgia Jr: Nick Chubb is a big, strong, and explosive running back. One of the SEC's biggest players, Nick Chubb started off his junior season with 222 rushing yards and 2 TDs against the University of North Carolina. His highlight from that game included a 55 yard breakaway touchdown run. He followed that performance with a lucrative one with 80 yards and only 1 touchdown. Chubb is yet to fumble, as ball security is never a problem with Chubb. The bulldogs are ranked 12th in the country and faced Missouri (a 1-1 team) and struggled on Saturday. Chubb was inconsistent and uncharacteristically bad. He only ran for 63 yards but carried the ball 19 times. If Chubb does not turn his season around his Heisman hopes could quickly come to an end especially because so many others are having an explosive start to the season.