Langley Crew Succeeds at SRAA Nationals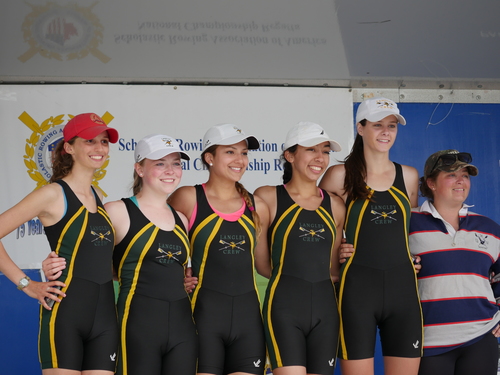 Hang on for a minute...we're trying to find some more stories you might like.
Fresh off their success at Virginia State Championships and the Stotesbury cup in Pennsylvania, the Langley Varsity Crew team left school right after Saxon Time on Thursday, May 22, on their way to New Jersey to compete in SRAA Nationals.
Despite their difficulties at Stotesbury in finishing fifth, the Men's First Four, of Coxswain Charlie Bavisotto, Bow seat Liam Fitzmorris, Two seat Alex Kiess, Three seat John Waugh, and Stroke seat Owen Shenk, placed seventh overall in the country at SRAA Nationals.
Even more impressively, the Women's First Four, consisting of Coxswain Sabrina Lamont, Bow seat Meagan Fountain, Two seat Nirosha Beekhuysen, Three seat Stephanie Dubois, and Stroke seat Katie Robinson, placed second overall in the country.
Both of these were unprecedented events, and the women's team's second placed finished was a first for Langley Crew to medal at the National level.
About the Writer
Brandon Arcari, News Editor
Hi, my name is Brandon Arcari, and this is my 4th year working on the Saxon Scope. I'm a senior (SENIORS!), on the crew team (SENIORS!), and I also help...