Deadpool Movie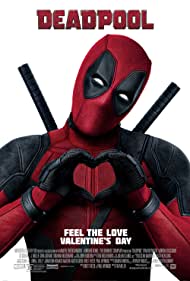 Released February 12, 2016 and directed by Tim Miller, Deadpool exceeded greatly, and set the bar for American cinema higher than imaginable.
At the start of the movie, the audience is introduced to the beloved character Deadpool (Ryan Reynolds), and immediately demonstrates the top tier acting and action scenes. About ten minutes into the film, Deadpool's charming, and slightly raunchy, personality is shown, along with many 4th wall breaks where dialogue is directed towards the audience. The film transitions into a flashback of Wade Wilson's (Deadpool) past as a bounty hunter. His daily life consisted of taking petty side jobs of intimidation for money and, frequenting, the local bar, Sister Margaret's School for Wayward Girls, where he socializes with the bartender, nicknamed Weasel (T.J. Miller). The audience can see that Wade's quick witted humor, and slightly violent tendencies are prevalent before he obtained his powers. The audience watches as Wade's world takes a new turn and a love story is introduced to the plot when he falls for Vanessa Carlysle (Morena Baccarin) and starts a life with her. However, through traumatic means, Wade must leave Venessa to save himself and their relationship, unknowing to the consequences that will be reaped for his decision. The rest of the movie consists of Wade trying to avenge his past self, while simultaneously rebuilding a sense of relationship with Venessa, and a relationship with the same person he can't recognize in the mirror. 
Overall Deadpool is a fantastic film filled with humor, action, romance, and everything else a viewer would want to see in a great film. The character development with himself and those around him hold a deeper meaning that is conveyed subtly, yet still makes an impact on the audience. While this movie may not be for everyone, due to the dark humor and graphic violence shown on screen, I guarantee that this film will get a laugh and maybe even a tear. Ryan Reynolds was a perfect casting choice for the character and pulls the movie together in such a way that no one else can, or will, act as Deadpool and do it a fair justice. This film will go down in cinematic history, and there are few who would argue why.