Langley High School Suffers From Bus Shortages
How the bus driver shortage is affecting students
At Langley High School, many students are affected daily by the shortage of bus drivers this fall. This dilemma leads to a lack of buses available to pick up kids, obligating buses to make two trips; the second wave of students are typically late to school. Although the problem is gradually improving, this county-wide phenomenon has affected students' lives in school. 
"If my bus was late, I would be really annoyed, especially if I got a slow start on the class work. Then I would have to do class work at home in order to make up, which would take away time from my day," Bishop O'Connell High School freshman Sam Hallisey said. While there aren't bus issues at most private schools, Hallisey, like many students, understands the importance of consistently arriving on time to school.
Some students are affected by the bus driver shortage more than others. The typical arrival time for buses thus far ranges from as early as 7:30 a.m. to an hour late to class. Some buses are not even late at all to school and are consistently on time. This sporadic bus schedule makes students unaware of how to predict the timings of the bus.
"Just yesterday I was at a club and was just about to head to the late buses, but late buses never arrived," senior Aravind Achuyathan said. Achyuthan attends after school clubs, and the bus driver shortage creates issues for students such as him who participate in extracurriculars. For some, late buses are the only way to get home following after-school activities, and without a reliable late bus schedule, students are left waiting at school for an indefinite amount of time.
As a result, some students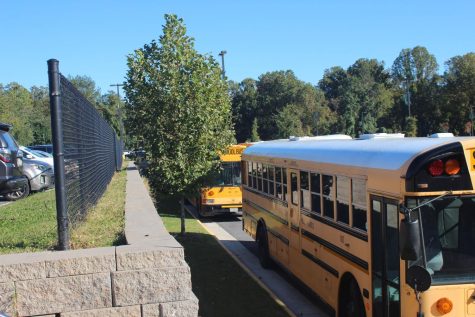 who usually take the buses no longer do. For example, student Bryce Leete only takes the bus one way.
"The bus is usually late, I mean it's fine when I'm going home but not when it goes to school," Leete said. Leete only takes the bus going home from school because as many students seem to agree, the main issue is arriving late to school in the morning.
The bus driver shortage is making students late and students are now missing classes more than ever.