Athletics race ahead of academics
Why sports are coming back before students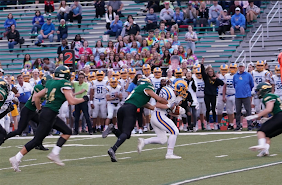 This school year has been one for the books, as the first school year in history where students spent the entiretyof their school time online. Every student has been affected differently during this time some even said they enjoy this time because they like being in the comfort of their home.
"I learn nothing in an online school," freshman Derrick Hsu said. However, most students dislike online school, since it's hard for them to pay attention over a screen and difficult not being able to see their friends. 
As FCPS sports return, many Langley parents and students are questioning why sports are being put before school when education is obviously more important. Although teachers still don't feel safe teaching students in-person, according to FCPS meetings, they would prefer to teach through a screen with another person watching the students in person. 
"They're trying their best to send us back," freshman Sam Isler said. FCPS has been working hard on these plans. 
Parents and students are still wondering why sports are safer than in-person school as confirmed by countless meetings and messages from FCPS, they share that FCPS is making all athletes wear masks while in practice and games of their sports. As well as sports, FCPS needs fewer people for watching the athletes since it doesn't have to be a teacher to be a coach and they only need a certain amount of coaches which is less than they need from teachers.