Calamity Consumes the Capitol
Pro-Trump protestors breach the U.S. Capitol building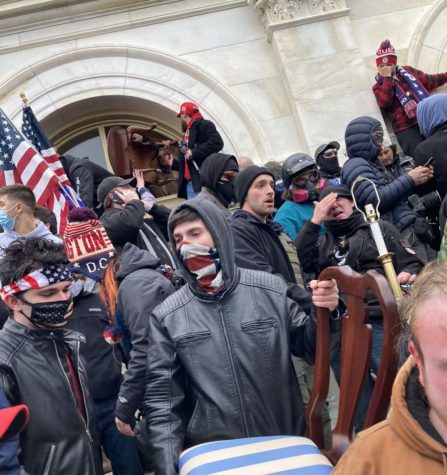 Violence escalated quickly as an unidentified woman was shot and killed within the U.S. Capitol building after mobs of pro-Trump supporters stormed the House and Senate Chambers where the certification of Electoral College votes was taking place. A tweet from Huffington Post reporter Igor Bobic shows one protestor standing on the Senate dais who was yelling "Trump won that election!"
This chaos followed President Trump's speech on the Ellipse in which he rallied his supporters "never to concede." With protestors continuing to brawl with police, tear down metal fencing, scale buildings, and break windows, the U.S. Capitol police evacuated Congress members and put the buildings within the Capitol Complex on lockdown. Additionally, the certification of Electoral College votes was temporarily put on hold. Furthermore, D.C. mayor Muriel Bowser announced a curfew from 6 p.m. Wednesday to 6 a.m. Thursday which excludes essential personnel.
"During the hours of the curfew, no person, other than persons designated by the Mayor, shall walk, bike, run, loiter, stand, or motor by car or other mode of transport upon any street, alley, park, or other public place within the District," said the order from Bowser's office.
With rioters swarming the Capitol building, police dressed in riot gear, flash-bangs and tear gas alike being released, President Trump initially did nothing to disavow the insurrection except urging them to "remain peaceful" via Twitter.
"I am asking for everyone at the U.S. Capitol to remain peaceful. No violence! Remember, WE are the Party of Law & Order – respect the Law and our great men and women in Blue. Thank you," Trump tweeted at 3:13 pm.
However, with his tweet doing little to nothing to calm the riots, president-elect Joe Biden went on live television at 4:06 pm to denounce the protestors. 
"At this hour, our democracy is under unprecedented assault unlike anything we've seen in modern times," Biden said. He added that the uprising "bordered on sedition."
Furthermore, Biden beckoned President Trump to make a televised appearance to instruct his supporters to cease violence and to "demand an end to this siege."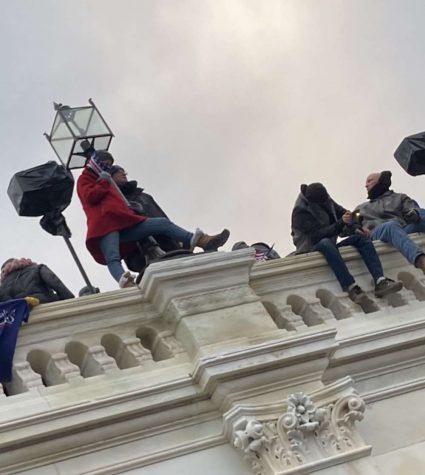 At 4:17 pm, President Trump finally issued a recorded statement via Twitter telling protesters who stormed the U.S. Capitol to "go home."
"I know you're in pain. I know you're hurt," Trump said. "We had an election that was stolen from us. This was a fraudulent election. But we can't play into the hands of these people. We have to have peace. So go home. We love you. You're very special. I know how you feel. But go home and go home in peace."
Trump's address was laden with mixed messages as he told rioters "to go home" while also falsely stating that "this was fraudulent election." Ultimately, it seems his address caused some rioters to return home as the Sergeant-at-Arms finally declared the U.S. Capitol building to be secure. democracy.
With the Sergeant-at-Arms' announcement, many lawmakers have released statements emphasizing their commitment to finish the Electoral College certification tonight.