Screening for fun
The origins behind Langley's new film club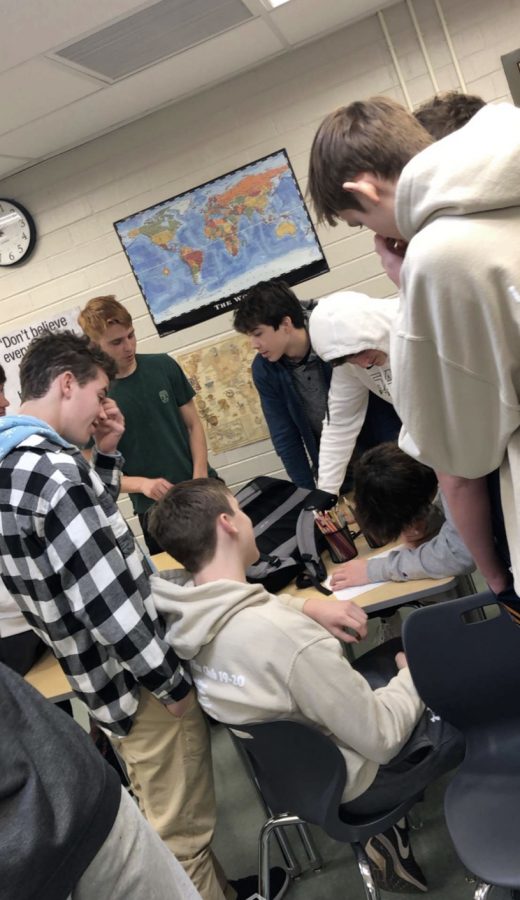 Langley High School has many clubs and activities for students to participate in, and new opportunities are being made every year. One of Langley's newest additions is the Film Club. This club is sponsored by Mr.DiBacco, and was created by a group of sophomore boys, as a way to watch their favorite movies and analyze them, but still have fun with their friends. 
"The film club is a laid back way to have fun with my friends and collaborate about something we are all passionate about; it relieves stress, but is still educational at the same time," sophomore Owen Kohm said. Film club was an attempt by Kohm and his friends to start an after-school club. Film club was among their many ideas and was proven to be the easiest to create.  
"In our first couple of meetings we discussed what movies we would like to watch during the year and what genres we would like to cover," DiBacco said. Film club is led by President Will Jordan, and Officers Owen Kohm, Ben Leone, and Jack Connor. Among the many films the club discusses are Get Out, Moneyball, and The Dark Knight. 
"If we are not just watching and analyzing movies we debate and discuss film related topics and strategies," club sponsor Cory DiBacco said. Film club meets every Thursday after school and once a week at saxon time to watch movies, pose questions, and discuss their favorite parts of these films. They also debate the best movies out of certain genres.  
"We all wanted to do our part to make our new club feel more like a real club. The sweatshirts gave us all a sense of union and brotherhood," Kohm said. Many Langley students have seen people walking around the halls wearing the same tan colored sweatshirt. This is the Film club sweatshirt. It features their club logo and all members of the club have one.  
"Following the start of Film Club, we were scheduling pictures when we discovered that there was a club called 'Media Review club.' So, in order to be the superior club we ordered hoodies to be in sync," sophomore Armaan Chakrabarti said. Since the film club was too similar to the "media review club," film club members became competitive and wanted to stand out. They also hope these hoodies will attract more club members.  
"If you appreciate and want to watch good, bad, Oscar-winning, and even laughably bad movies with a rotten tomatoes score you didn't even know was possible…you are welcome to join the club!" DiBacco said.