Best buddies friendship walk
Langley Best Buddies attends Best Buddies Capital Region Friendship Walk over the weekend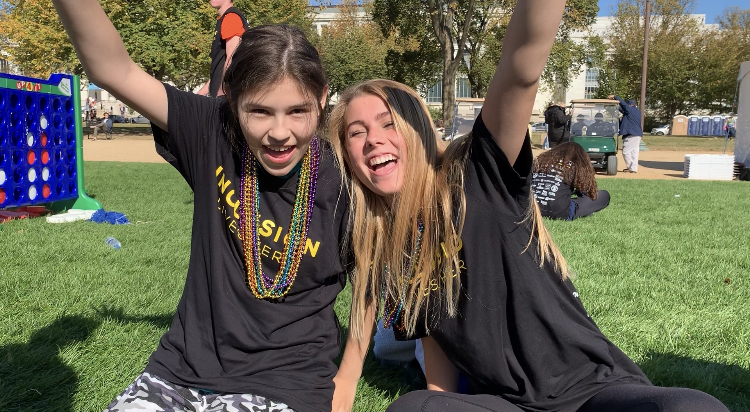 This past Saturday morning, close to 100 Langley students and a few staff members traveled into D.C. to participate in the Best Buddies Virginia & D.C. Friendship Walk.  The group walked a 3.1-mile course around the National Mall to raise money for the Best Buddies Capital Region Organization.
Best Buddies International is an organization dedicated to positively impacting the lives of people with intellectual and developmental disabilities by creating one-to-one friendships, leadership development, and more.  The Capital Region of Best Buddies organizes chapters of the organization in schools around D.C. and Northern Virginia.
The Friendship Walk is an annual event held all over the country to raise money to open chapters in more schools and provide opportunities to even more students.  This year, the Virginia & D.C. Friendship Walk raised a total of $442,471.18 surpassing the $425,000 goal originally set.
Langley's team had 95 members and raised a total of $11,255.13, making them the 8th highest fundraising team of the event.  Langley's highest fundraising team member was junior Natalie Assad who raised $1,675 placing her as the 17th highest fundraising individual of the event.
For the newer Best Buddies members, the friendship walk is their first region-wide event and potentially their first event with the club in general.
"My experience at the walk was great!  Everyone was so nice and welcoming, and it was a lot of fun.  It felt good not only to walk but to also be a small part of such a big group and organization," sophomore Jane Sullivan said.  This is Jane's first year as a peer buddy and was her first time attending the Friendship Walk.
Senior Ava Thompson is Langley Best Buddies' president and has been a part of Best Buddies since her freshman year and an officer since her sophomore year.
"I think the friendship walk meant a lot to Langley students.  We had 95 team members this year which is truly incredible. It means so much to the buddies and to me personally for everyone to sacrifice their Saturday morning for a greater good," Thompson said.
For more information about the Best Buddies Friendship Walk, visit https://www.bestbuddiesfriendshipwalk.org/virginia-dc/.