United, Langley stands
Langley's Model United Nations team wins 1st place overall at Wootton conference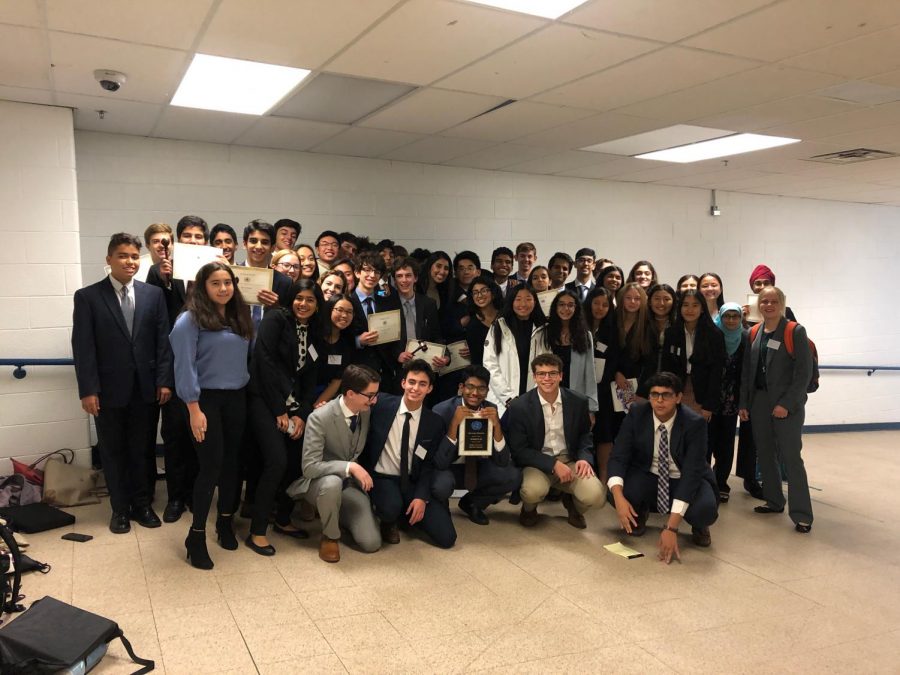 This weekend, Langley's Model United Nations team traveled to compete in Wootton High School's Model UN competition in Rockville, Maryland. Facing tough competition from other teams, Langley Model UN won the Best Large Delegation award (equivalent to First Place). In addition, most of our students won individual awards, which are listed below.  Best Delegation is equivalent to first place, Outstanding Delegation is equivalent to second place, Honorable Delegation is equivalent to third place, and Verbal Commendation is equivalent to fourth place.
Disarmament & International Security Council (DISEC):
Maya Ghattas & Max Aue: Honorable Delegation
McKenzie Hiek & Arion Tripathi:  Honorable Delegation
Anum Chotani & Vi Tran: Outstanding Delegation
Abe Al-Dalli & Ethan Bhatia: BEST DELEGATION
Social, Humanitarian, and Cultural Committee (SOCHUM):
Zane Al-Dalli & Kevin Farnsworth: Honorable Delegation
Colleen Sherry & Eva Snyder:  Honorable Delegation
Hana Mossaddad & Nadia Malik:  Outstanding Delegation
United Nations Educational, Scientific, and Cultural Organization (UNESCO):
Zoe Wang:  Honorable Delegation
Francisco Yang: Honorable Delegation
Sumrath Pahwa: Outstanding Delegation
World Health Organization (WHO):
Lucas Frischling: Honorable Delegation
Ritvik Chennupati:  Outstanding Delegation
Tyler Donohue: BEST DELEGATION
United Nations Office on Drugs & Crime (UNODC):
Ishaan Kathuria: Outstanding Delegation
Arab League:
Ulaina Ahn: Outstanding Delegation
JCC: The Iranian Revolution, The Shah:
Babak Changiz: Honorable Delegation
JCC: The Iranian Revolution, The Khomeini:
Surya Reddy: Outstanding Delegation
Huawei Board of Directors 2019:
Diego Morandi: Honorable Delegation
Secretary-General (equivalent to President) Kavye Vij spent countless hours along with the rest of the Secretariat training Langley's delegates. "I think that a combined effort of club officers as well as veterans who trained our novices helped a lot with our dominant performance…especially [because] our kids knew exactly what to do, and had quite a few signature Langley strategies they were able to employ," he said.
"Langley's always had extremely dominant performances year to year so a start like this is a great momentum for the remainder of the year; however, there are always things to improve so our performance should really get much better though the rest of the year."