Langley triumphs at annual Cappies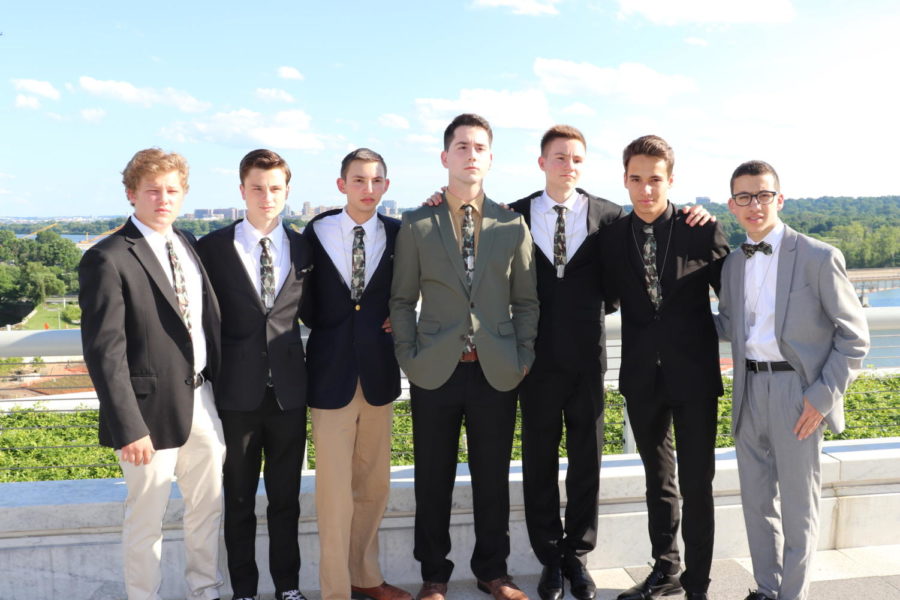 Saxon Stage stole the spotlight at the 20th annual Cappies–an awards-ceremony for high school theater within the DMV area. Taking home four of the seven awards for whichit was nominated, Saxon Stage defeated Duke Ellington School of the Arts, among others, for the coveted category of Best Play. The Cappies organization–judged by high school-student critics–features over 50 local schools. Langley sophomore Cole Stilideswon best Lead Actor in a Play, and senior Mark Bosset won best Supporting Actor. Biloxi Blues won best Play and the ensemble for Biloxi Blues won best Ensemble in Play. In addition to the four categories Langley won, they were nominated for Marketing and Publicity, Props, and Featured Actor.
"I was so happy when [Biloxi Blues] won best play,"Claire Fulton, violinist and Langley sophomore in the orchestra accompaniment, said. "I was not expecting it but at the same time, they worked so hard and totally deserved it!"
The Cappies were held at the Kennedy Center in Washington, D.C., where Saxon Stage competed on behalf of Langley High School.
"My favorite part was probably getting to perform on the stage of the Kennedy Center," Cole Stilides said. "How manytimes in your life do you get a chance to do something like that?"
At the gala, the cast performed a three-minute scene from Biloxi Blues in front of almost 2,500 people.
"I'll never forget the adrenaline rush of acting on such a grand stage," Mark Bosset said.
Because Biloxi Blues had no musical accompaniment, Langley's orchestra, conducted by Dr. Criswell, accompanied Oakton High School's Catch Me If You Can as well as James Madison High School's West Side Story. After six practice sessions, the orchestra performed on the stage of the Kenedy Center.
"My favorite part of the Cappies was playing 'Gee, Officer Krupke'from West Side Story because of how involved the violin part was,"Fulton said. All performances nominated were judged beforehand by highschool students. Theater and journalism students were trained to be critics who judged the shows. Each school had a team of three to nine student judges as well as two adult volunteers. Anywhere from between 20 to 90 critics might attend any show.
In addition to the performances, The Cappies also gave students the opportunity to meet with friends, dress up, and celebrate a year of hard work.
"[The Cappies] was definitely the highlight of my year!" Fulton said.
Langley's collection of four Cappies this year is especially impressive compared to the other winners. Westfield High School won the most awards, with Langley High School and McLean High School tied for second.
"I'll never forget Biloxi Blues, and the 2019 Cappies was the perfect sendoff to perhaps my favorite show with Saxon Stage," Bosset said.