Diving Right Into Senior Night
Langley Swim and Dive's Successful Senior Night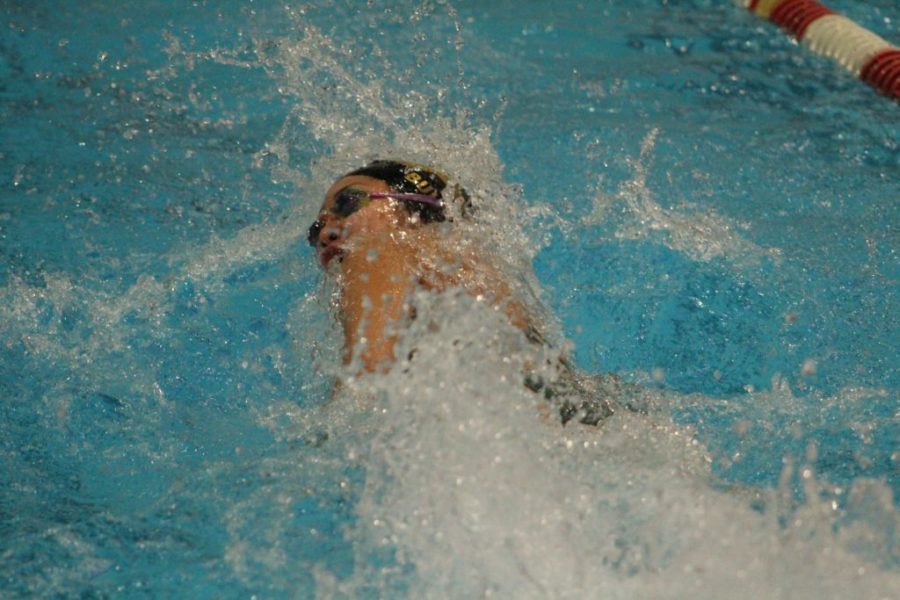 On your marks! Get set! Beep! And after the timer went off, it was game time for the Langley Swim and Dive Team. On Friday, January 11th, the Saxon Aquatic Team began their swim meet against Yorktown High School. With Yorktown being a conference member, but yet a highly competitive match, it was a seat-gripping and anxiety-inducing face off to watch amongst both Yorktown and Langley fans.
Aside from the excitement surrounding the actual meet, it was Langley's Senior Night: a night in which the graduating seniors are celebrated for all their years on the team. While many were motivated for swimming their best, many also experienced great nostalgia looking back on their swim and dive careers for Langley.
"There's a lot of nostalgia. I remember watching all my other friends who have graduated in past years do their Senior Night and working so hard to prepare for it," Grace Kugler, Senior and one of the Girls' Swim Captains, said.
"It's exciting, it's tough to realize it's been four years already," Alex Montano, Senior and one of the Boys' Swim Team Captains, said. "It's a little sad, but I'm pretty happy, it's been a great season so far!"
Prior to the race, all of the seniors on the team were introduced with some of their greatest achievements and they were awarded crowns and flowers from their family and friends.
The Langley Boys went on to defeat Yorktown with a score of 195 to 120. In the medley relay, seniors, Ignat Miagkov and Andrey Smiryagin, and sophomores, John Bradshaw and Ryan Dix, placed first, while again another Langley team finished second including seniors, Matt Kang and Justin Gomez and other team members, Ben Scott and Darius Truong. The 200 free relay team including seniors Alex Montano and Will Koeppen finished first and won first again in the 400 free relay. Boys' Diver and Senior, Dylan Reed also landed in first place.  
The Langley Girls, however, lost a close battle to Yorktown in a score of 135 to 175. However several landed first place finishes including, freshman, Claire Vroom in diving, sophomore, Natalia Rongione in the 500 free, and junior, Megan Jungers in the 100 fly and 100 back.
Overall the Saxons had a successful senior night and a successful meet, even though the girls' team fell short.
Prior to the meet, another senior swim captain, Justin Gomes, remarked, "We're totally going to win tonight. I'm ready to go!" And with that, the Saxons dominated.