Success in Spanish
Langley Spanish students shine in National Spanish Exam
Hang on for a minute...we're trying to find some more stories you might like.
Each year, Langley Spanish students have the opportunity to participate in the National Spanish exam, an exam that assesses students' proficiency in several disciplines of Spanish study. Langley is typically successful in this exam, and this year has been no exception. A total of 65 students received awards for their performances, with a total of five students receiving gold medals for scoring on or above the 95th percentile, nine students receiving a silver medal for scoring between the 85th and 94th percentiles, 12 students receiving bronze medals for scoring between the 75th and 84th percentiles, and 39 students receiving honorable mention awards for scoring on or above the 50th percentile.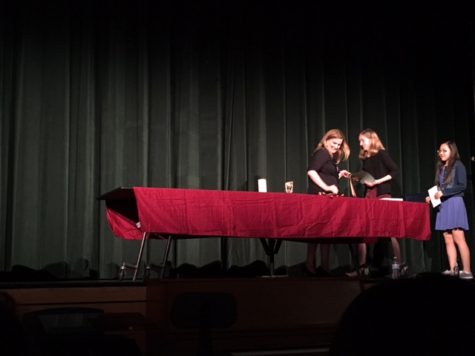 "I've been taking the exam since 7th grade so at this point I just wanted to take it to see how this year compared to past years," said Marina Carlucci, a senior and bronze medalist in the highest exam level. "Also, it's good practice for the AP exam and Spanish class is general."
Students took the exam for a variety of reasons, but as Carlucci said, a primary reason for taking the exam is to practice Spanish skills that students learn in the classroom."I decided to take the exam because my Spanish teacher encouraged us to since it is a great way to practice listening to and reading passages and just get some experience," said sophomore and silver medalist in the Level 3 exam, Michelle Ascrizzi.
In terms of the exam itself, one thing that it does well is focusing on the specific grammar points that students learn from their classroom teachers in their respective levels of Spanish study.
Senior Will Wicker, an AP Spanish student who received a gold medal in the exam said, "…many skills used on the exam are also used in the classroom, like reading comprehension and listening comprehension."
The exam also provides students with questions that are slightly above their skillset in difficulty, challenging students to use their knowledge to make educated conclusions.
"Even though the exam was difficult and we were not expected to know how to answer every question, it was overall a good way to practice Spanish and just see what I can do with what we've been learning," said Ascrizzi.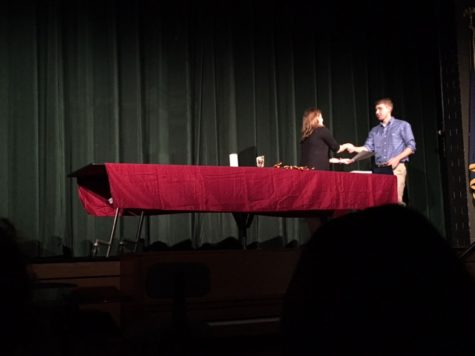 Regardless of how they scored in the exam, many students were able to gain valuable experience from the assessment to take into their classes and future experiences overall.
"I definitely improved some of my reading and listening in Spanish skills as well as increased my Spanish vocabulary," said Carlucci, referring to what she took away from the exam experience.
Ascrizzi remarked that she plans to take the exam again, saying, "I will definitely take it again next year especially because I know what to do differently as far as preparing, and it's a fun way to practice or even get recognized for doing well."
Langley had by and large a very successful experience with the National Spanish Exam this spring. Many Langley students were able to gain vital knowledge and skills from the exam, which will hopefully help them in their Spanish classes or speaking Spanish in another environment. Langley recognized the students who received awards on Wednesday, May 24, 2017, celebrating Langley's excellent achievement this year.
| | |
| --- | --- |
| Student Name | Award Received |
| Surya Ambardar | HM |
| Matthew Angles | HM |
| Caroline Britt | HM |
| Leah Damelin | HM |
| Austin Hanley | HM |
| Jack Kelly | HM |
| Sean Kilduff | HM |
| Sneha Kripanandan | HM |
| Samantha Lee | HM |
| Adu Menon | HM |
| Audrey Monserrate | HM |
| Kareem Al-Attar | HM |
| Lauren Johnston | HM |
| Akshay Luthra | HM |
| Nacha Nachiappan | HM |
| Grace Stevens | HM |
| Simone Stoyen | HM |
| Yasmin Momenian | HM |
| Punar Kaur | HM |
| Matthew Lee | HM |
| Kevin Wang | HM |
| Will Brzezinski | HM |
| Nate Buchanan | HM |
| Matthew Feinstein | HM |
| Benjamin Johnson | HM |
| Karlye Pallotta | HM |
| Lauren Cain | HM |
| Celeste Campos | HM |
| Anvitha Metpally | HM |
| Vikram Prasad | HM |
| Sneha Dass | HM |
| Brent Davis | HM |
| Shivani Iyer | HM |
| Emily Wallach | HM |
| Michelle Wi | HM |
| Sydney Bamdad | HM |
| Jayeesh Chennupati | HM |
| Shahan Salam | HM |
| Kendall Treco | HM |
| Beatrice Le | Bronze |
| Isabella Shapiro | Bronze |
| Mariana Gragnani | Bronze |
| Crisanne Mortenson | Bronze |
| Lucia Perez | Bronze |
| Bennett Novak | Bronze |
| Sonali Bhatnagar | Bronze |
| Alexander Camus | Bronze |
| Jack Gagnon | Bronze |
| Ari Tretiak | Bronze |
| Marina Carlucci | Bronze |
| Taylor Shenk | Bronze |
| Hallie Cain | Silver |
| Alexa Coe | Silver |
| Patrick Halm | Silver |
| John Riddell | Silver |
| Alejandro Waquin | Silver |
| Casey Schoff | Silver |
| Alex Montano | Silver |
| Reyna Yang | Silver |
| Michelle Ascrizzi | Silver |
| William Wicker | Gold |
| Joseph Dooley | Gold |
| Guadalupe Waquin | Gold |
| Gabriel Lopez-Cartagena | Gold |
| Sarah Buckingham | Gold |