Renovation Update
Renovation projects are beginning to come to a close for the 2016-17 school year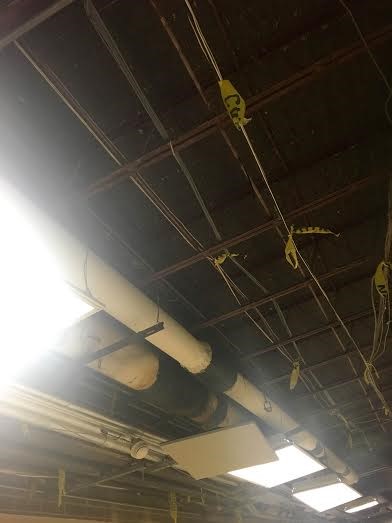 Unless you've been living under a rock, you're aware of the renovation happening at Langley. With the new theater and science building currently in progress, there are still many more steps to go.
"[Construction] is moving along and I think it looks really good, the potential is going to be awesome, it's just a matter of getting it finished," said Principal Amico. "For the near future, I think we will have things completed in the spring."
Before renovation began, many students worried about the potential disruptiveness and inconvenience of construction, but it has proven to be a minor inconvenience at Langley.
"I've talked to numerous students and the parking has been somewhat disruptive," shared Principal Amico, "but other than traffic patterns within the building I think you guys have adapted pretty quickly."
As for current projects, some construction is beginning to wrap up, some as soon as the beginning of next school year.
"The renovation is steadily progressing along as well as can be expected," said Assistant Principal Jim Robertson, "The auditorium and main office suite is projected to be done sometime this spring."
Many of the ongoing projects will be completed in the next few months and will be ready for the 2016-17 school year. This will open up more of the building and allow for easier traffic flow.
"The foreign arts suite is amazing, the black box theatre and Langley hall is gorgeous. The auditorium is going to be such an upgrade, the whole building is going to be such an upgrade from what we had and you guys are gonna love it," said Mr. Amico. "You're not gonna believe how open and spacious it is. The new science rooms ceilings are about 3 feet higher, it's a huge improvement. It will be done for next school year, when you guys start next year you'll be in the new science rooms."
The next step in renovation is the Main Gym, which will commence on March 2nd, which fortunately will not greatly impact gym classes, due to approaching warm weather.
"Students, staff and parents are going to be excited once the new sections of the building are completed," shares Robertson, "The gym will be under renovation beginning March 2nd and is slated to be completed in time for the fall sports season. This will be a building that everyone will have great pride in!"
"Traffic going to the trailers has been a major downside to construction," said sophomore Andrew Chilton, "The new building will be a huge improvement."