Muntastic: Langley Wins Best Large Delegation at ILMUNC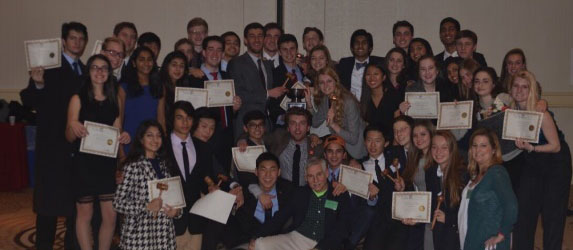 Aleena Seed, Staff Writer
March 8, 2016
For the first time in Langley MUN history, the team received the Best Large Delegation award at the 32nd annual Ivy League Model United Nations Conference. Hosted at the University of Pennsylvania, ILMUNC is considered the national championship for Model UN conferences and is one of the largest, most competitive in the world. Multiple schools from North America, South America, Asia, and Europe all came to compete in this year's conference."It is a national and international conference and the biggest one we go to. I think the competition is very tough and the team just stands out because they work very hard and are interested in what they do," said Ms. Stocks, head of the MUN team.
Langley not only won best delegation but delegates also won many individual awards. Some of these include; Outstanding Delegation for Disarmament and International Security, Outstanding Delegation in Social, Humanitarian, and Cultural, Honorable Mention in Economic & Financial Committee and others.
Students had to put in a lot of effort and extra time in preparation of the conference. "We held additional meetings each week to help the newer kids, who had never been to ILMUNC before, prepare and learn how to compete there," says Ameen Al-Dalli, President of the MUN club. Emi Gardiner, a member of the team says, "getting Best Large School at ILMUNC has been one of our club's goals for a while, and we were finally able to achieve this because of the hard work, commitment, and support for each other from every member of the club."
Honed by this historic win, the langley team looks forward to a busy schedule over the coming months. Recently, they attended Duke University's Conference  (DUMUNC) winning many individual awards and plan on attending Thomas Jefferson High School's Conference in April.The school will also be holding it's own MUN from March 11-12.
While this win has certainly raised expectations it has also generated a lot of support at home. The victory is truely representative of the langley spirit.This standard setting endeavor has certainly earned the team best wishes for an even brighter future.