Flutopia Flourishes at Carnegie Hall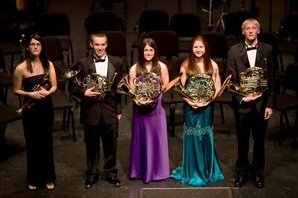 Carnegie Hall. The name is intimidating, it being a music center renowned around the nation. And four Langley students – Katie Moody, Jenna Weida, Craig Hunter, and Dana Rosenburg – had the privilege of performing there this weekend with the wind ensemble Flutopia.
Flutopia is a wind ensemble comprised of about 60 students from different high schools in Northern Virginia. It was founded by music teacher Judith Lapple in 2000. Lapple passed away in Aug. 2010. However, Flutopia lived on through her daughter Jennifer's efforts and dedication.
Flutopia practiced for an outrageous amount of time leading up to the performance at Carnegie Hall. They spent many Sundays and weekday afternoons in rehearsal.
"Rehearsing and mentally preparing ourselves for Carnegie Hall was really a struggle, but I know this will all pay off. I'm so proud of all of us, and I want to thank Judy and Jennifer Lapple for everything they did," said Flutopia member Katie Moody.