The BIG Plan
Sachin Murhalidir's got something up his sleeve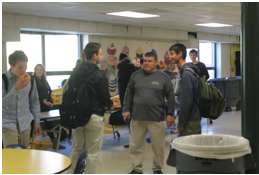 Hang on for a minute...we're trying to find some more stories you might like.
A brilliant plan was devised by Sachin Murhalidir, the secretary of freshman Student Government Association, during their last meeting along with the other members of the team.
Freshman doughnut days have been a reoccurring conflict as a result of the seniors scavenging their way to victory. "Freshman donut days have never been worse, so we had to come up with a new strategy to get them out." Murhalidir said it perfectly, seniors are notorious for stealing donuts that were clearly designated for freshmen. Freshman have revolted by attacking the seniors breakfast day of Cinnabon. There have been many sightings of freshmen sneaking into the cafeteria to snatch a few of the tasty treats. Their explanation? They were furious with the seniors looting their doughnuts.
Sachin does not want that behavior to continue, so he is fighting for a new and improved doughnut policy. He is asking for the doughnut days to be scheduled in a time slot that senior would be unable to attend, and is also arguing for a remote location that cannot be seen unless told about. "I think the new courtyard would be a great setting because we could close off the other doors and monitor who comes in and out much more easily," Murhalidir said. Additionally, Sam Sachtleben and Jack Fitzgerald proposed the idea that they should hand out the doughnuts one by one to ensure that no sketchy characters make their way to the finish line. Regardless, many freshman still think other classmen will manage to attain the beloved delicacy.
The only problem with the event is the unsure weather forecast. Despite this, they are still convinced they need to find an out-of-the-way area to serve the delights. "Everything should go to plan as long as the freshman are the only ones informed about the date, time, and room. We are trying to find a way to deliver the message without using the PA system, but it doesn't look like it's going to happen," Sachtleben said, president of freshman SGA.
Although the doughnut days are exciting and worthwhile, it is not Sachin's main goal for the year. He exclaims, "One of our long term goals is to raise money for the class of 2020 by hosting a 3 on 3 tournament at the end of the year. It should give us more money to spend next year and we are going to do it again if it works well, so that we have a suitable amount for our senior year." You might ask yourself, what is Sachin and his team going to do with the money? He didn't give me any specific details, but as we spoke I came to the realization that he and his team were argumentative on what they would do. One member was really pushing for more entertaining activities during the homecoming and Sadie's pep rallies and another was hopeful to get better equipment around the school.
But don't worry, Sachin has learned a great deal as secretary and is giving it his best efforts to not only raise money and give the people what they want, but to make the fund raising activities fun and the money worthwhile.