From a Varsity Player to a Varsity Coach
Coach Shifflett reveals how her life of volleyball began and how she has remained involved in the sport all her life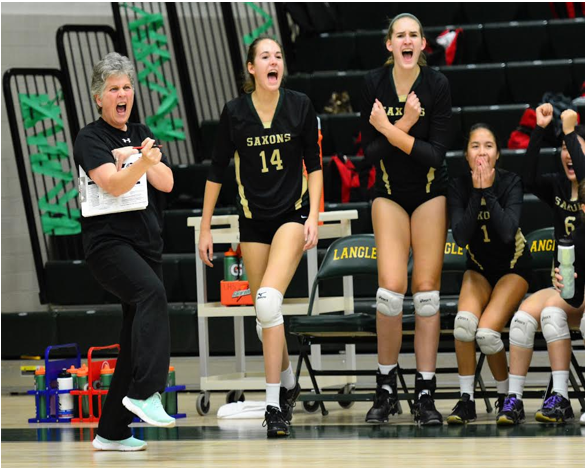 After graduating, many volleyball players hang up the kneepads and spandex and go into college focusing only on school; Coach Sue Shifflett however, was still at the beginning her volleyball career.  Even in her first year of playing, she showed a lot of talent in the sport.  She started on the varsity team at her high school in Pennsylvania and continued to play for that team all four years of high school as an outside hitter.
"I loved my coach.  She was a great coach and she made it a really fun experience for me.  My best friend was also on the team so we had a lot of fun," Shifflett said.
She continued to play for Penn State all four years of her college career for the widely known volleyball coach, Russ Rose.  As of the 2016 season, Russ Rose has been coaching for 38 years at Penn State.
"[I was] Sick to my stomach, it was nerve racking, but at the same time, very exciting," Shifflett  said as she described her feelings when she found out she would be playing for Penn State.
Most volleyball players don't get the chance to play in college because of the very competitive nature of the sport, but those lucky few who do, usually retire their career in volleyball after college, but not Shifflett.  After graduating, Shifflett came to work for Langley.
A few years into Shifflett's teaching career here at Langley, a few students who knew of her volleyball background approached her and asked her to help them start a volleyball program here at Langley.  Since then, she has coached many different varsity teams consisting of freshman, sophomores, juniors, and seniors and has been able to leave an impact on all of them.
"[Shifflett] took care of us all and I'll never forget it.  If we screwed up, she told us.  If [the former] coach was doing something stupid, she'd tell him.  If we were injured, she fixed it.  If we were thirsty, she got us water.  If we wanted to learn sports medicine, she taught us.  If we needed advice, counsel, [or] support, she gave it.  Coaches, sports, teachers, and friends all change throughout high school but [Shifflett] was a constant," Brian Maguire, a former student of Shifflett, said.
            "My favorite thing about Shifflett is that she never gives up on [anyone].  She knows that everyone is capable of playing to their full potential and consistently encourages us to be great.  [Shifflett] is truly a second mom to us.  I know that if I need anything, whether it be related to school, volleyball or just life in genera, she will always be there for us," said Lauren Pratte, a senior on Shifflett's varsity team.
"[I love] both the lasting relationships… and the competition.  I love to compete," Shifflett said.