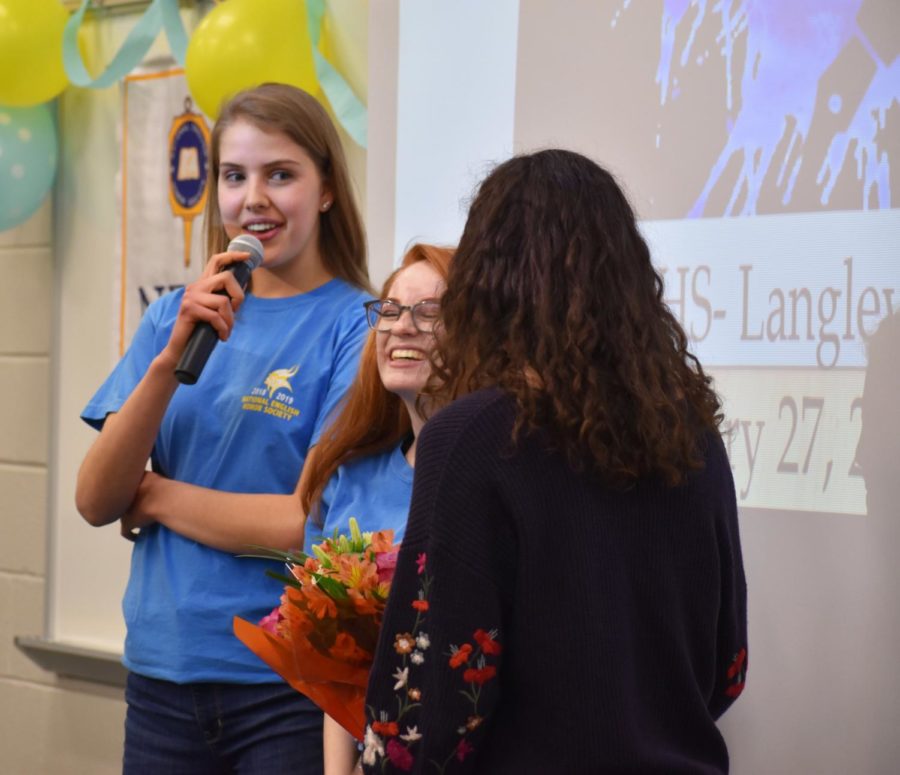 National English Honor Society (NEHS) sponsored the second annual Poetry Slam at Langley, February 27. A total of twenty-two poetic presenters, including members of NEHS and some of Langley's teachers, read original and published poetry. After the poetic presenters, there was an open mike session, where any Langley student had the chance to read a poem. 
"NEHS hosts the Poetry Slam as a way to promote literature and creativity within the Langley community," Eliza Seidel, NEHS' Poetry Chair, said. 
A variety of poetry was read, from students' and teachers' original works to the lyrics of the song, "Waiting Room," by Ian Mackaye. Other poems that were read included, "Do Not Go Gentle Into That Good Night," by Dylan Thomas, and "Short Film on the History of Nations & Progress" by Conley Lowrance, a former Langley student. Junior Emily Treacy read the poem "You are not your age," by Erin Hansen. 
"I definitely gained some confidence from doing the Poetry Slam," Treacy said. "I was very, very, nervous to go up and read a poem in front of so many people, but it ended up being great!" 
Teachers from all different subjects were encouraged to come and present at the poetry slam. Ms. Gladys Nieves, a Spanish teacher, read "Cultivo Una Rosa Blanca" by famous Cuban poet José Martí. Math teacher Mr. Jay O'Rourke read "Living in Numbers" by Claire Lee. NEHS advisor Ronni Chern hopes that by seeing teachers from different subjects celebrating poetry students will realize that poetry goes beyond the English classroom. 
"We had a math teacher, we had a history teacher, we had a physical education teacher, we had some English teachers, we had a Spanish teacher," Chern said. 
While it was not required to memorize a poem, the Poetry Slam offered a unique opportunity for spoken word, also known as performance poetry. Spoken word is a form of presenting where a poem is dramatized and performed as a monologue. It is meant to engage the audience. Langley librarian Mr. Phillip Clark, and Mrs. Vivian Jewel were among the notable spoken word presenters. 
"I did choose to memorize my poem, that was a surprising amount of work. It takes a lot of work to make something look easy," Jewel said.   
Students and teachers seemed to agree that Langley's second Poetry Slam was a success and an opportunity not to be missed. 
"I think poetry should be celebrated. I think it is an engaging and intense experience of language," Jewel said. "To be able to whoop and holler when people read poetry is a wonderful opportunity."