Langley Varsity Basketball Girls Take On The Woodson Cavaliers
A recent loss causes reason for the team to re-evaluate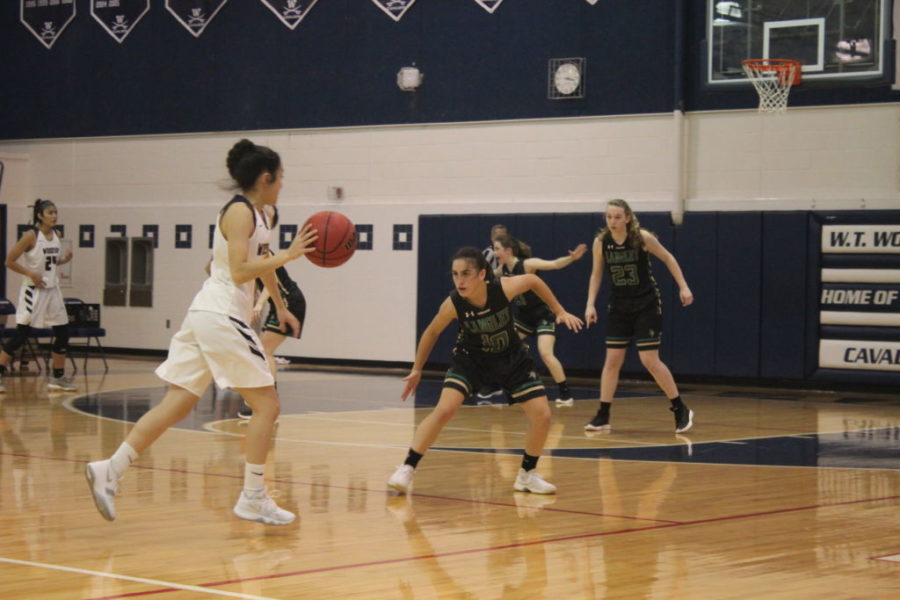 Only a few weeks into the basketball season, the Langley varsity girls battled against the Woodson Cavaliers on December 1st. Playing on their home court, Woodson came out energized and ready to play, taking home the win. The first quarter started out slow for the Langley Saxons, only having two scorers, senior Lauren Maloney (12) with 4 points, and Lily Kleinknecht (12) with 3, resulting in Woodson having an early lead of 8 points at the end of the quarter. Junior, Abby Pesansky scored 9 out of their 15 points. As the second quarter started, the Saxons came out with a lot of energy.
Although Langley allowed Woodson to get their lead up to 14 points, starting point guard, Annabeth Holsinger (9) helped lead the Saxons with aggressive defense and powerful ball movement to shorten the lead of Woodson to 5 points. With 16 minutes left to play, the Saxons started the 3rd quarter with the same intensity as they finished the 2nd. With 6 minutes left in the 3rd quarter, the Saxons pushed harder than before and stopped Woodson multiple times creating only a 1 point deficit. Although Langley was making great stops, Woodson found a way around the Saxon's defense and got the lead back up to 9 to finish the quarter. With 1 quarter left, the Saxons were fighting to stay in the game. With around 4 minutes left, Head Coach, Amanda Baker, brought defense Ginevra Augustini (12) in the game
"Whenever I get put in during those last crucial moments, I have to cause turnovers. I anticipate where the next pass will go and try to overwhelm the other team." Augustini said. Even though this helped get stops on defense, unfortunately, the Saxons were not hitting their shots, leaving a 10 point lead to Woodson with 3 minutes to go in the game.
Giving Bella Holloman(11) and Kleinknecht every chance at an outside shot, the Saxons fell to Woodson with a final score of 36-43.
"To be honest I thought we played pretty well, limiting our turnovers to 10 and playing great defense. We just didn't convert as much as we would have liked to on offense." Holsinger said. The Langley Saxons have their next game on December 4th, against Centreville.