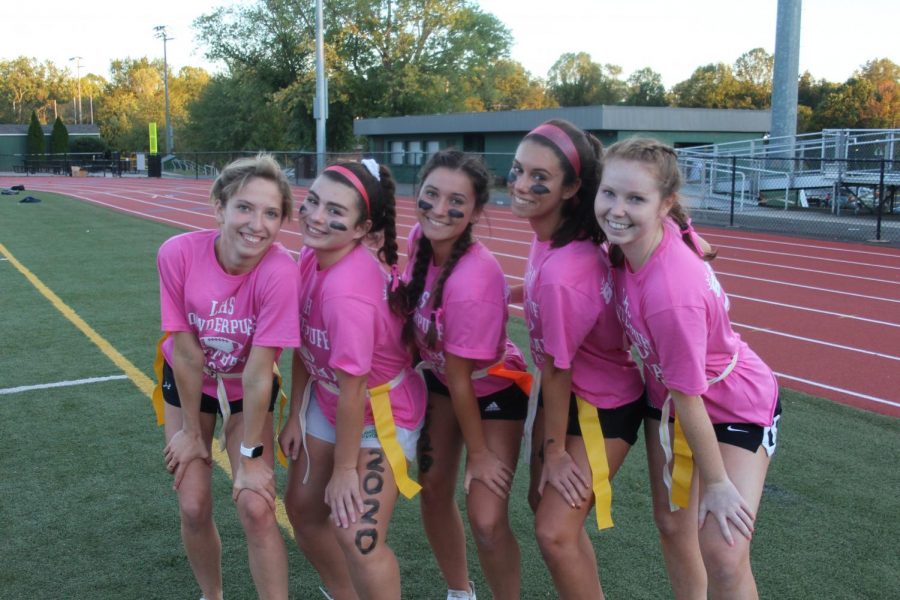 Just because it's flag doesn't mean it's phony. Junior and senior girls of Langley High School came together on a Friday afternoon on October 4, 2019, to clash against each other for the ultimate battle of the upperclassmen. Friends became adversaries as each team of girls was coached by boys of each respective grade level. For some senior girls, this was their first time; for others, their second. A handful of juniors were eager to play in their first eligible year of the game as well.  
Langley has been running the annual Powder Puff game for a multitude of years now, but this girl-powered game is not new to high schools across the country. The first documented game of Powder Puff dates back to almost 75 years ago in Colorado. Langley has not been around for as long but cherishes the game dedicated to the athletic girls of the school who do not always get the chance to partake in a fun and competitive game of football.  
Both juniors and seniors took Saxon field. Colored mouth guards for each respective teams were worn by some of thee players. The seniors were uniformed in bright pink, and the juniors in white; both were in it to win it. The bleachers were filled with students and spectators, looking on and cheering for their grade levels and friends.
The juniors put up a fight, but it was without a match to the powerful senior team. The seniors marched up and down the field, outscoring the juniors with strategic playmaking and scores, giving them the final victory.