Snow day grow day
Snow days are more important now than ever.
Snow blankets the trees outside your window, eyes widening, you make a frantic grab for your phone and open up the Fairfax County Public Schools (FCPS) website. The yellow highlight makes you optimistic as you skim to the bottom of the alert, announcing that the day ahead will be filled with stress-relieving snow-themed fun, sledding, snowball fights, and catching up on work for the week.
In a time when schools are focused on lowering the stress of their students through measures like limiting the amount of homework teachers are allowed to assign and creating classes that help assess and alleviate the stress of school, it doesn't make much sense to take an opportunity of stress relief away from students.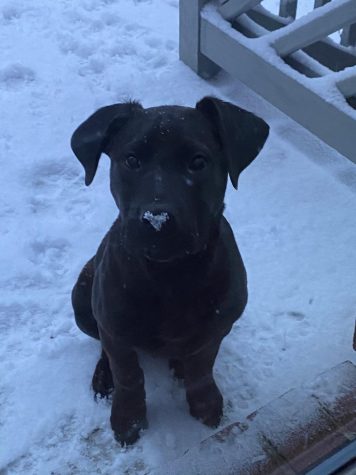 "Online school has been such a big mental toll for everyone. I think we just needed one break day that would give us a sense of normalcy during the pandemic," senior Erika Chung said.
 This seems to be the consensus with the surrounding area, both Loudoun and Prince William County canceled virtual learning for the day. These two school districts in the areas surrounding Fairfax have been in all virtual learning. 
"[Having snow days] are so nice. I say this as a teacher, as a parent, and as a former student. I know the joy of a snow day or even a snow day without any snow. Those days when it's ridiculous but you think 'yeah why not?' It's just kind of fun to switch things up," Langley links and AP US History teacher David Kuhn said.
To an elementary school student, snow days are a free day to spend playing in the snow and drinking hot cocoa. To a high school student, they are often used to get ahead on work for the week or catch up on past assignments, with some hours of rest in between. However, in the online setting, it is easy to understand why replacing a would-be snow day with a day of online education makes sense, because of the shortened school year.
"In my AP class, we don't have time. We are 20 classes shy of what we would normally have in a normal school year, and I can only give [students] 75 minutes of homework. We don't really have the extra minutes," Kuhn said.
In a year where teachers are already struggling to find enough educational time to prepare students for AP exams and other finals, not having snow days seems like a smart choice. It simply prevents FCPS students from falling further behind. 
It's also fair to mention that school is the only social outlet for those people who have been stuck with just their family for almost a year and a snow day takes away from that social time. 
"The pandemic's biggest impact on school, besides the shortened schedule and all, is the lack of social connectivity, and I worry that a snow day would disrupt the social connections that are too few," Kuhn said. 
FCPS is more than just highschools, however, the Fairfax County school system is made up of 198 schools, 141 of those are elementary schools. Simple math shows that 71% of FCPS is made up of elementary schools and their students. These are students who have yet to worry about the burdens of classes that will impact where one goes to college, and to them, taking a snow day in online school makes perfect sense. It provides a much-need stress reliever. 
"I think we should have snow days because we would have snow days if we were in school. Letting us have one snow day isn't going to have a negative impact on our future at all," Forestville Elementary 6th grader Peyton Raufer said. 
All in all, snow days should be a welcome break from the stress and monotony of school, even in the virtual environment. Whether they are used to frolic around with friends and family in the snow or to review for upcoming tests, snow days are a stress reliever.