Wolf Trap Woes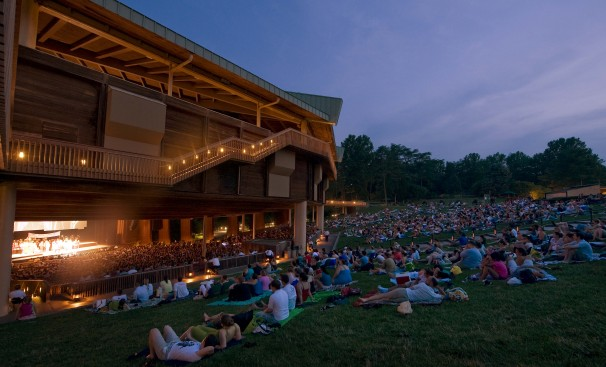 Every summer, Wolf Trap National Park puts on a wide variety of performances and shows at the Filene Center. From classical and jazz performers to music's hottest singers, Wolf Trap claims to only focus on quality and diversity when they are booking artists. Nevertheless, their choices for this year left me dissatisfied.
The beautiful venue features several thousand seats that are under cover and provide for somewhat of a concert experience. These seats make you feel like you are in a concert hall with the balcony seats above. In addition, cheaper tickets are sold for seats on the sloping lawn in the back. The lawn seats allow for one to have what I consider more of the perfect summer evening. All you need to bring is a blanket and some food and you are set to enjoy a nice picnic while listening to music. Plus, if you arrive early enough you can even grab a coveted space on the lawn where you can see the stage.
After seeing Colbie Caillat with Gavin DeGraw a few years ago and The Fray last year, I could not wait for the summer schedule to come out for this coming season. When it finally came in the mail, however, I could not help but be disappointed with what I saw. There were a couple performers that I recognized and had heard of briefly before, but all the others seemed to appeal more toward my parents preferred style of music.
And then there was Kelly Clarkson. Don't get me wrong, her songs are catchy and she is very well known, but it definitely feels like Wolf Trap is picking up left overs from her prime time several years ago. Furthermore, she is performing at Wolf Trap over the weekend of September 12th, which is after the start of next school year, so I would not even be able to enjoy it during the summer.
That being said, there are several bands on the summer schedule for the Filene Center that would be perfect to just listen to as you have a picnic with friends or family. Just be ready to go for the experience- not the headliner.going to Wolf Trap this summer, make sure you are going for the experience- not the headliner.
About the Writer
Casey Charron, Reporter
Hi Saxons, my name is Casey. I am a senior and this will be my second year of being on the Saxon Scope staff. In school, I enjoy learning more about math...