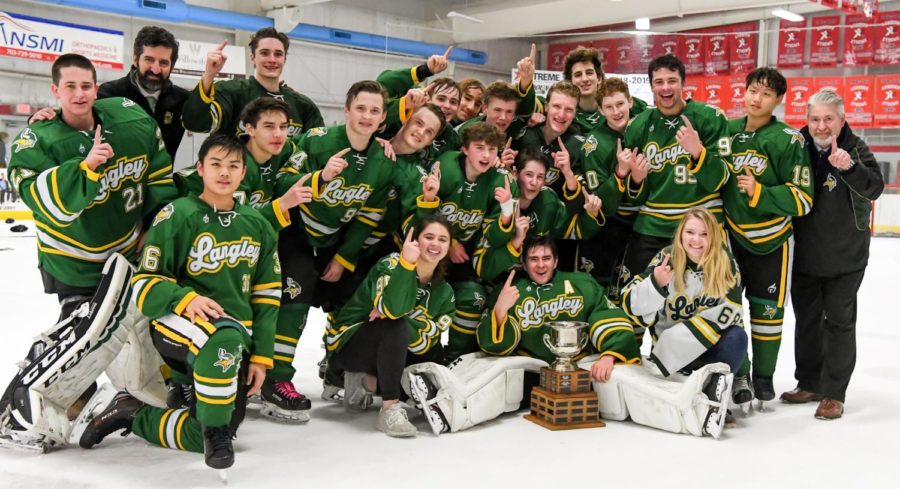 Skating off the rink with winning smiles, the Langley Saxon Boy's Hockey team after a year of hard work, won the State Championship game, Friday, February 25th. Beating the Briar Woods High School Falcons 4 to 2 in a heated fight for victory, the team brought home the NVSHL (Northern Virginia School Hockey League) Championship Cup back home for the first time in history. Even with a tense back and forth battle up until the third period against the team, the Saxons pulled through with a triumphant win.
After sweeping up a victory and bringing the Championship Cup back to Langley, Junior, Eian Keough was the most excited about the team's victory.
"We all worked really hard for this win, we fought to be here, and we did it as a team. It feels beyond words amazing, the journey to get here but we did it," Keough said.   
"The victory wasn't easy, Briar Woods had a lot of talent and definitely deserved to be at the championship, but we just went out to the game with the mindset that failure is not an option," sophomore and forward Callie Cahill said. "We're going to enjoy this championship because how many times are you on a high school team and win states? I personally don't want to just stop here, I want to come back next season and experience this moment again." 
 Briar Woods was not a team Langley anticipated an easy game with. The Falcons clearly gave Langley a lot of trouble throughout the game. With Langley scoring first, Briar Woods would answer with a goal, Langley senior goalkeeper, Max Campbell was anxious about how close in points the at teams both were certain points throughout the championship game.
"We maintained the lead at all times which was amazing and I'm very proud of the team because without them we wouldn't have won the game. But you're at states and the opposing team scores on you, it feels awful," Campbell said. "But I remained calm and focused throughout the close moments in the game, but at the end of the day we ended at top and we're the champs," Campbell added.  
 "This won't be the last time Langley wins states, we're going to work just as hard next season to bring the title back to Langley for two years in a row," Keough said.