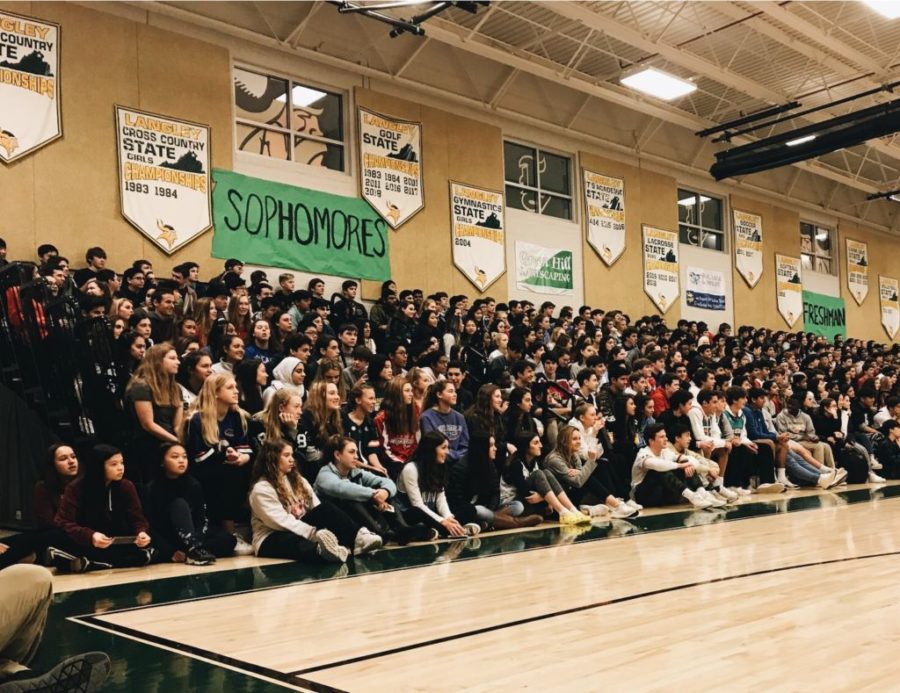 Midterms, papers, quizzes, and last minute scrambles for extra credit, these are all things associated with the end of the second quarter. Langley students had to face extra chaos in this stress-inducing last week of the quarter with the addition of spirit week and a pep rally. With the at-home McLean game on Friday, January 25th, student leadership attempted to get the Saxons excited for the match with school spirit. However, the pep rally that was planned fell on a day that many students were expecting to use in order to make last minute improvements to their grades.
"I love pep rallies, they're such a fun bonding experience for our school, but I'm kind of bummed about there being no Saxon Time on Thursday because I wanted to spend it talking to teachers." Sophomore Jack Colligan said prior to the pep rally.
The end of the quarter is jam-packed at Langley, as teachers try to finish up units and lessons, bringing with it lots of assessments. If students do not do as well as they would hope on these assessments they often try to use Saxon Time to discuss their grades with teachers. Teachers, however, do not have a problem with Thursday's schedule.
"I don't lose any instructional time. I think what might be challenging is that due to all the two-hour delays we have been missing a lot of Saxon time some students have been stressed to make up work before the end of the quarter," Ms. Chinn said. Chinn teaches AP World History, as well as Psychology, and normally has at least a few students coming to visit her in Saxon Time each day. While the absence of Saxon Time this past Thursday, students do admit to being given ample time to complete assignments and talk with teachers. "All my teachers are always able to talk and help me before and after school, as well as in Saxon Time, I just think that a lot of people, including myself, have been procrastinating all quarter, and now it's coming back to bite us in the butt," Sophomore Nicole Schmanske said.
With the end of the quarter finally concluded and grades finalized, as fun and potentially stress relieving pep rallies can be, to many students it was a very inopportune time for Langley's SGA to place the event.