To park or not to park
Where the parking pass money goes and how they affect the student body at Langley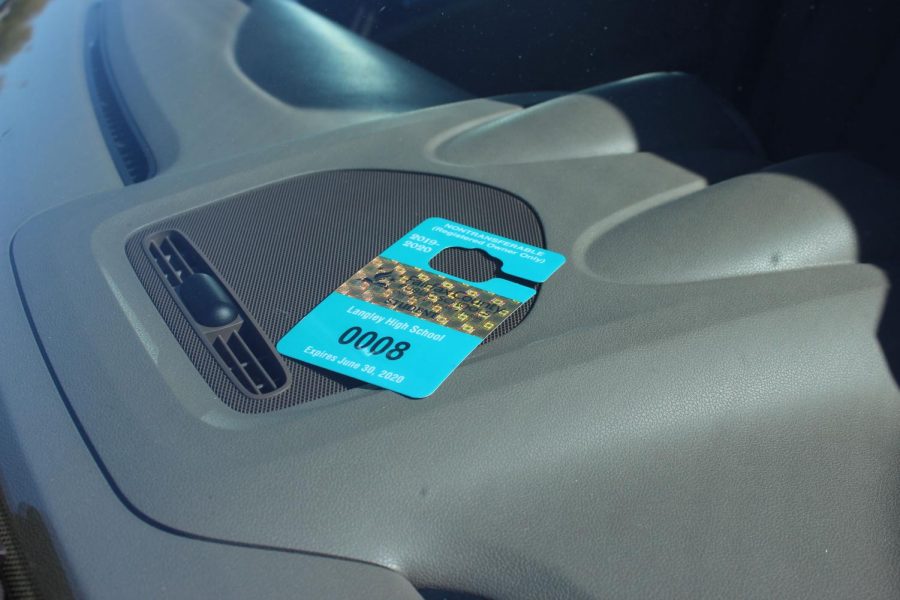 After school, there is a tumultuous outpouring of seniors and most juniors from every door scrambling to be the first to get out of the parking lot to beat the traffic. However, the rest of the juniors still have to go on a long and tiresome bus ride to get home. The difference between having a parking spot and getting out of school faster and riding the bus as a junior? The highly sought after parking pass.  
"When not in renovation, the policy has always been that all seniors who desire a parking pass, will receive one, providing that all financial obligations have been met. Juniors who wish to obtain a parking pass will enter a lottery. The winners are chosen at random," Safety and Security Specialist Mark Rogers said. 
Parking pass applications for rising seniors are available in May and due by late June; rising juniors, on the other hand, have to wait until the school year starts. Doing this ensures all the seniors who want a pass will receive one and that the juniors who apply will get any remaining spots. However, all students will have to fill out a form and pay a $200 fee to get a pass. 
"For each parking pass, 80% of the funds go to the Fairfax County Schools general fund. The remaining 20% goes to the school, and is spent at the discretion of the Principal. This is the same for every FCPS High School," Rogers said. 
The Fairfax general fund includes funding for projects for mental health initiatives, security, laptops, salaries, and so on. Interestingly enough, the amount of money Langley High School contributed to Fairfax County via parking passes has recently increased due to the end of the renovation. 
"During renovation, the policy is dictated by the available number of spaces. During our renovation, for example, only 50% of the senior class was awarded a parking pass, and that was done via a lottery. There was no parking passes awarded to juniors during renovation," said Rogers. 
Now that the renovation at Langley is complete, there is parking availability for all seniors and some juniors who will win the lottery. The additional parking allows for students to avoid waking up early to ride the bus and makes it easier for students who play sports and have to carry their gear. 
"Last year when I was a junior, I entered the raffle and got a pass that way, but this year, since I'm a senior, I automatically got one. Honestly I wouldn't change anything. I do like the raffle so juniors can get a pass because not every junior can get one so I believe the raffle is the most fair way to do it," senior Matt Flenniken said. 
However, not all students received a parking pass. The randomness of the raffle meant that some students who play sports every season or participate in numerous clubs may not receive a pass. Because of this, some of these students found other ways to drive to Langley and park. For example, students parked in the neighborhood next to Langley, Langley Oaks, and at friends' houses nearby. 
"I parked at St. John's and it was fine just a little difficult when it was pouring rain and muddy, or when it started to get cold," senior Lauren Treacy said. 
Nonetheless, the parking pass system is not localized to just Langley, but all of Fairfax County. Many schools have similar systems in place for students to apply and receive a pass . 
"We applied over the summer on a Google form and it's not difficult to get a pass, everyone who applied got a parking pass," junior at Herndon High School Jessica Hermus said. 
Ultimately, the parking pass system has worked for all schools in Fairfax County and will most likely remain unchanged in the future.
"I think the parking pass system is fair because they're giving the seniors the priority to get a spot first and then give the juniors a chance to get whatever spots are left," Flenniken said.