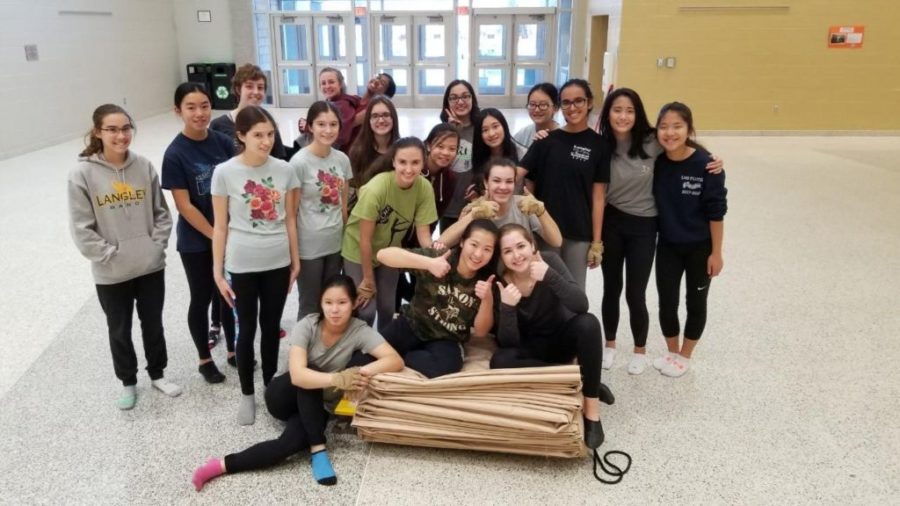 Langley's first winter guard competition of the year is coming up. This year, it will be held on February 3rd at Spotsylvania High School in Spotsylvania, VA. Langley High School's winter guard team of 22 will be participating in the competition.
The team has been rehearsing every Tuesdays and Thursdays since winter tryouts at Langley Hall. With their competition coming up within the next 2 weeks, the athletes are putting more effort into rehearsal.
"With the amount of time this team has been together, it's going great" the Coach, Kira Gaylik, asserted. "And we may even be further along than some other teams as far as how much of the show we have finished."
Gaylik has picked out a theme for the team's  routine. For this year's performance, the theme will be creepy, something dark. The team will be dancing to the song "Paint it Black" by Ciara. All weapons, props, and outfits are to coordinate with the theme of black and red. Rachel Jin will be performing a solo part on and off throughout the show.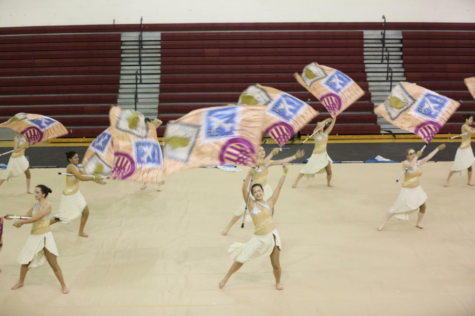 "I'm very excited and a bit anxious about being the soloist," said Jin. "But being the soloist gives me a lot of freedom to express myself and perform the way I want to."
Each competing team will be judged in different categories– Equipment Analysis, General Effect, Movement Analysis, and Design Analysis. There will also be a penalty judge to make sure all timing is matched and that no one steps out of the boundary line. Each judge gives a score of 20 combined out of 100 to determine each division's placements.
"I like how all the choreo, music, and equipment and all matches the creepy theme," Captain of International Dance Club, Leila Tejani said. " I love how the red equipment changes to black and people go to the 'dark side'."
There must be at least 3 minutes of equipment (Flag, Rifle, Sabre). Each division has a base level of difficulty they must achieve. Groups can be moved down a division if they are not performing skills that are difficult enough for their division.
"My biggest worry is that I will forget part of our show or mess up for an easy move." Freshman Emily Wu said. " But I still feel excited about the upcoming competition."
For many people on the team, this will be their first winter guard competition, as it is only the second year of winter guard at Langley High School.
"In terms of preparations, I can only say we will give the best we have." Rachel Jin stated.