Best Buddies club competes for visit from actress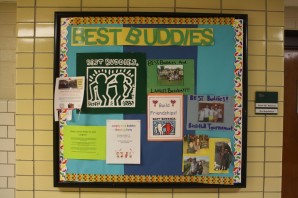 Harris LaTeef
Micaela Grassi, Reporter
October 10, 2012
Filed under News
If you've ever watched "Glee," you are probably familiar with the very popular Cheerio, Becky Jackson, played by Lauren Potter.
Langley has the chance to win a visit from Potter through the Best Buddies Club.
Best Buddies, an international organization that advocates for people with intellectual and developmental disabilities, is sponsoring a contest called "Audi Best Buddies Challenge." The Best Buddies chapter in Virginia that raises the most money will get a thank you visit from Potter on Oct. 18.
Just like her character Becky, Potter has Down Syndrome. She is a member of the board of Best Buddies and is an award-winning disability rights advocate.
More than $1,700 has been raised already, thanks to the efforts of the Langley Best Buddies Club, but a lot more money is still needed to bring Potter to Langley.
To donate, register at www.bestbuddieschallenge.org/va. Checks can be made out to Best Buddies and dropped off in the mailboxes of Jen Linicome or Ellen Witherow.