The bees knees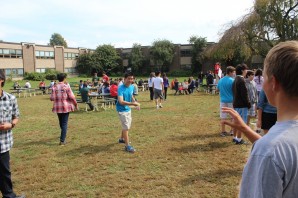 Billy Orme
Joseph Malpica, Reporter
September 29, 2012
Filed under Editorial
September in Northern Virginia is arguably one of the most beautiful times of year we experience. The air is clear, the skies are blue, and the temperature seems like air-conditioning.
Despite our complaints about how old and tattered our school seems to be, the one thing students do enjoy is eating in the courtyard. Who would want to miss on the opportunity to eat outside during this beautiful time of year?
Of course, just when we all found the nicest place to eat, something had to go wrong. One word. Bees.
Honeybees started going into the courtyard, along with the large amount of trash and food leftovers from the student body. Despite the attempts to keep the courtyard clean the bees just kept coming back.
The last thing you want while eating your sandwich or $2.50 unlimited salad from line 2 is a bee to sting you.
According to vice principal Mr. Fred Amico, these types of bees apparently do not sting. There are no reports of anyone having been stung, but the courtyard has still been closed as a precaution.
So thanks to the honeybees that now call our courtyard home, we cannot eat lunch in the beautiful weather.
On the bright side, the Langley administration is supposedly going to set up contraptions to attract the bees away from the courtyard where kids have been eating.